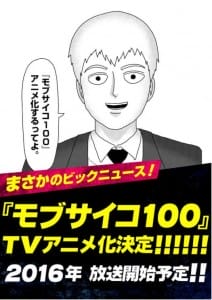 Step aside, Saitama! It's Mob's time to shine!
Earlier today, Shogakukan's Ura Sunday web publication announced that Mob Psycho 100 will receive an anime adaptation. The series will be animated by Bones (Fullmetal Alchemist, Blood Blockade Battlefront) with plans to air in 2016.
Mob Psycho 100 is an ongoing manga series by One-Punch Man creator ONE. The series revolves around middle school student Kageyama Shigeo, whose lack of presence earned him the nickname "Mob." Though he seems inconspicuous, Mob is actually a powerful Esper. As he gets older, Mob comes to realize the dangers of his powers, and chooses to live under a constant emotional shackle to contain his abilities. Mob wants nothing more than to live a normal life, but must endure a barrage of problems that seem to arrive at his feet. If his emotions are fully unlocked, a mysterious "something" will overtake his entire being.
Mob Psycho 100 first debuted on Ura Sunday in 2012. Currently, the series spans 10 collected volumes, with 11th book due to hit Japanese retailers on Friday.
Source: Yaraon!