Suddenly, thousands of voices cried out in unison. If one were to listen closely, it would sound like they were saying "Chihayafuru, when?!"
Earlier today, the official Chihayafuru movie website updated with a new trailer. The new teaser gives a peek at the members of the Mizusawa High School Competitive Karuta Club, Karuta Queen Shinobu Wakamiya (played by Mayu Matsuoka), and a flashback that features a young Chihaya, Taichi, Arata.
The end of the teaser confirms that the two movies, Chihayafuru: Kami no Ku (Chihayafuru: Upper Phrase) and Chihayafuru: Shimo no Ku (Chihayafuru: Lower Phrase), will open on March 19 and April 19, respectively.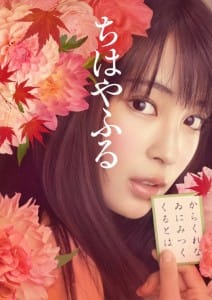 The confirmed cast includes:
Chihaya Ayase: Suzu Hirose
Taichi Mashima: Shuhei Nomura
Arata Wataya: Mackenyu
Kanade Ooe: Mone Kamishiraishi
Yusei Nishida: Yuma Yamoto
Tsutomu Komano: Yuki Morinaga
Akihito Sudo: Hiroya Shimizu
Hiro Kinashi: Ryotaro Sakaguchi
Shinobu Wakamiya: Mayu Matsuoka
Taeko Miyauchi: Miyuki Matsuda
Hideo Harada: Jun Kunimura
The Chihayafuru manga inspired a pair of anime series from Madhouse, which ran for a combined 50 episodes. Morio Asaka (My Love Story!!) directed the title, while Kunihiko Hamada (My Love Story!!, Nana) provided character designs. Digimon Fusion composer Kousuke Yamashita was in charge of the show's music.
In North America, the Chihayafuru anime is currently streaming in its entirety on Crunchyroll. They describe the series as follows:
Chihaya Ayase has spent most of her life supporting her sister's model career. When she meets a boy named Arata Wataya, he thinks Chihaya has potential to become a great karuta player. As Chihaya dreams of becoming Japan's best karuta player, she is soon separated from her karuta playing friends. Now in high school, Chihaya still plays karuta in the hope that she will one day meet her friends again.
Source: Eiga Natalie