Despite popular wisdom, lots of people have been waiting to welcome the rice ball back to the Fruits Basket!
Earlier today, Yen Press announced that they acquired the domestic rights to Natsuki Takaya's Fruits Basket manga. The series will be released in 12 updated volumes, which are based on Hakusensha's Collector's Editions, which began hitting Japanese retailers this year. Yen Press's first two volumes of the series will be released in June 2016, with a new volumes being released on a monthly basis.
TOKYOPOP previously released Fruits Basket in its entirety in the west. Yen Press describes the title as follows:
Fruits Basket is the story of Tohru Honda, a young girl who – following the untimely deaths of her parents – finds herself living in a tent on land belonging to the Sohma family. When the family takes her in, she discovers their rather unusual "curse": possessed by spirits of the Chinese Zodiac, they transform into their zodiac animal when embraced by someone of the opposite sex.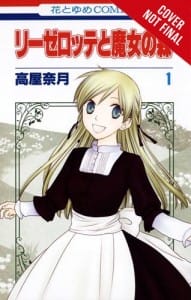 In addition to Fruits Basket, Yen Press revealed that two other titles from Natsuki Takaya will join their lineup. Both Liselotte & Witch's Forest and Twinkle Stars will be released by the publisher in the west. Liselotte & Witch's Forest will hit stores in July 2016, with new volumes releasing three months. Twinkle Stars will be released across five omnibus volumes, though a specific release date wasn't released.
Yen Press describes Liselotte & Witch's Forest as follows:
In Liselotte & Witch's Forest, titular character Liselotte holds out hope of finding an important person from her past, but her quest leads her to a forest rumored to be inhabited by witches.
Yen Press describes Twinkle Stars as:
Sakuya, the lead character of Twinkle Stars, has always been mesmerized by the night sky, but when she meets a boy at her eighteenth birthday party, she discovers that the stars may actually have more to do with her fate than she ever imagined.
Source: Yen Press