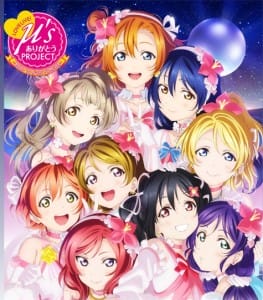 All good things must come to an end.
Earlier today, Love Live! idol group μ's announced that they'll host their final pair of concerts as a unit. μ's will perform two shows at the Tokyo Dome on March 31 and April 1, 2016. The concerts will be known collectively as the "μ's Final Love Live!"
The concerts are a part of a larger send-off, which is being called "Love Live! μ's Arigatou Project ~Road to μ'sic Forever~." μ's final single will hit Japanese retailers on March 2 as part of the event, as well as theatrical screenings of Love Live! music videos and μ's concerts, as well as the publication of three new books.
The news was announced during a 30-minute TV special. At the moment, no further details are available, though a trio of promotional videos were released. It comes hot on the heels of Oricon's reveal that μ's single WAO-WAO Powerful Day! sold 40,107 copies to chart at #3 in its début week.
60-Second Promo
30-Second Promo
15-Second Promo
Source: Love Live! Website, Anime News Network