Madoka Kaname's back in the spotlight!
Yesterday, we reported that a recent Madoka Magica concept film will be used as the core of an upcoming project. In a recent interview with Newtype magazine, SHAFT representative director and president Mitsutoshi Kubota revealed that the studio intends to use the film as a moving storyboard, as well as a viable trailer.
The publication also includes the first key visual for the project, which you can check out below.
The four-minute Madoka Magica concept film was was shown at the recent "~Commemorating 40 Years of Shaft~ Madogatari" event. Ideas introduced the feature include Madoka taking the role of a ballet dancer, Mami Tomoe adopting the role of a battle god in the vein of Romance of the Three Kingdoms' Guan Yu, and active roles for both Hitomi and Nagisa.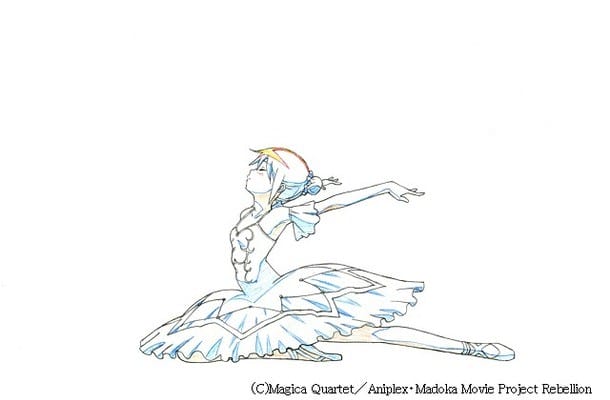 The project has been in the works since the October 2013 début of Puella Magi Madoka Magica The Movie Part 3: Rebellion. Kubota is credited as producer on the new concept film, while series director Akyuki Shimbo worked as chief director. Series director Yukihiro Miyamoto returned to the director's chair, while Ume Aoki designed costumes. The feature itself is the brainchild of director Akiyuki Shimbo, character designer Ume Aoki, scriptwriter Gen Urobuchi, and animation studio Shaft.
Other returning staff members include:
Music: Yuki Kajiura
Alternate Space Design: Gekidan Inu Curry
Animation director: Junichiro Taniguchi
Sound Director: Yota Tsuruoka
Sound Production: Rakuonsha
Animation Production: SHAFT
Numerous cast members also returned to reprise their roles in the film, including:
Madoka Kaname: Aoi Yūki
Homura Akemi: Chiwa Saito
Mami Tomoe: Kaori Mizuhashi
Sayaka Miki: Eri Kitamura
Kyōko Sakura: Ai Nonaka
Kyubey: Emiri Katō
Nagisa Momoe: Kana Asumi
Source: Yaraon