Earlier today, the official Ajin – Demi-Human anime website started streaming a new trailer for upcoming film Ajin -Shōtotsu- (Ajin – Demi-Human: Collision).
Ajin -Shōtotsu- is currently scheduled to hit Japanese theaters in May 2016.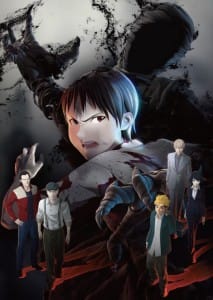 Ajin – Demi-Human is based on Gamon Sakurai's manga of the same name. The project will receive three films, which will be animated by Polygon Pictures. Chief director Hiroyuki Seshita and director Hiroshi Seko, who previously collaborated on Knights of Sidonia, will work together on the project.
The confirmed voice cast includes:
Kei Nagai: Mamoru Miyano
Kaito: Yoshimasa Hosoya
Eriko Nagai: Aya Suzaki
Kōji Tanaka: Daisuke Hirakawa
Ikuya Ogura: Hiroyuki Kinoshita
Satō: Houchu Ohtsuka
Izumi Shimomura: Mikako Komatsu
Tosaki: Takahiro Sakurai
Kō Nakano: Jun Fukuyama
Netflix currently holds the domestic rights to the Ajin – Demi-Human TV series. The company will simulcast the title in Japan, with episodes hitting three days after their première dates. All markets outside of Japan will receive the show in mid-2016.
Crunchyroll currently publishes the Ajin – Demi-Human manga series for premium subscribers. The company describes the series as follows:
Seventeen years ago, an utterly immortal human was discovered on an African battlefield. Since then, more of these new and unknown life forms began to appear among mankind. These undying beings start to be known as "demi-humans." One day, just before summer break, a Japanese boy leaving his high school is involved in a traffic accident that kills him on the spot. Then, he comes back to life. A huge bounty is placed on his capture. Now the boy's attempt to evade all of mankind begins.
Source: MoCa News