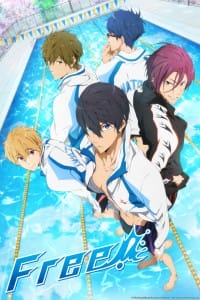 The first season of KyoAni's aquatic-themed anime series is now available in English!
Earlier today, Crunchyroll started streaming the first season of Free! Iwatobi Swim Club in English dubbed format. The series is available to the service's Premium subscribers in all territories outside of Asia.
The show's dub reunites the major cast from FUNimation's Free! Eternal Summer English adaptation:
Haruka Nanase: Todd Haberkorn
Makoto Tachibana: Johnny Yong Bosch
Nagisa Hazuki: Greg Ayres
Rei Ryugazaki: J. Michael Tatum
Rin Matsuoka: Vic Mignogna
The adaptation was written by the team of John Burgmeier and J. Michael Tatum, with Tatum taking the role of Lead Writer.
Free! Iwatobi Swim Club is an original title from Kyoto Animation. The series, which hit Japanese TV on July 7, 2013, was directed by Hiroko Utsumi, with character designs by Futoshi Nishiya (Hyōka, Nichijou – My Ordinary Life). The team of Masahiro Yokotani and Reiko Yoshida wrote the show's scripts.
Crunchyroll describes the show as follows:
Nanase Haruka loved to be in the water – loved swimming. In elementary school, Nanase Haruka, Tachibana Makoto, Matsuoka Rin, and Hazuki Nagisa attended the same swimming class together. Time passed, and as Haruka was living an uneventful high school life, he suddenly encountered Rin again. Rin challenged Haruka to a race and showed him how much stronger he had become. Soon enough, Makoto and Nagisa also rejoined the group, and along with a new classmate, Ryugazaki Rei, they established the Iwatobi High School Swimming Club.
Discotek currently offers Free! – Iwatobi Swim Club on subtitled DVD.
Source: Crunchyroll (Thanks to Anthony Simpson for the tip!)