Gundam fans are in for an electrifying treat!
Earlier today, the official Gundam website announced that they'll be offering a portion of Mobile Suit Gundam Thunderbolt for free. Fans will be able to view an unspecified portion of the series via the Gundam website.
The video will be available to select regions, from December 25 at midnight Japan local time (12/24/2015 at 10:00AM, Eastern) through midnight on January 7 (1/6/2016 at 10:00AM Eastern).
Specific availability is still unknown as of press time.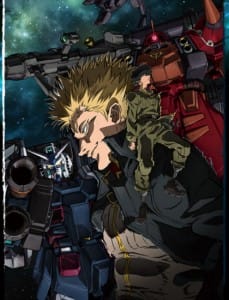 Mobile Suit Gundam is a four-episode OVA series, which is being helmed by Gundam UC director Kou Matsuo at Sunrise. Hirotoshi Takaya (Texhnolyze) is providing character designs, while the team of Morifumi Naka (A Wind Named Amnesia, Texhnolyze), Seiichi Nakatani (Gundam 00), and Hajime Katoki (Gundam Wing, Mobile Suit Gundam: The 08th MS Team) handles mechanical designs. Scripts were written by director Kou Matsuo.
The confirmed voice cast on the project includes the following:
Io Fleming: Yūichi Nakamura
Daryl Lorentz: Ryohei Kimura
Claudia Palh: Toa Yukinari
Kara Mitchum: Sayaka Ohara
Cornelius Caca: Daisuke Hirakawa
Graham: Shunsuke Sakuya
Burroughs: Mutsumi Sasaki
J.J. Sexton: Hiroshi Tsuchida
Mobile Suit Gundam Thunderbolt's first episode, which has an 18-minute run time, will be released to digital outlets on Christmas day at noon, Japan local time (December 24 at 10:00PM Eastern / 7:00PM Pacific). The episode will be released via an Electronic Sell-Through (EST) service, which allows customers to download the video file – a first for the franchise. The site confirmed that this first chapter will be priced at 500 yen ($4.07 USD), and it will include a special bonus documentary titled Ichinen Sensō ni Idonda Mono-tachi ~Documentary of Thunderbolt #1.
Customers who don't want to buy the episode outright can rent it for 250 yen ($2.03 USD). As of press time, territories, formats, and providers are still unknown.
Several screens and character design sheets, as well as a promotional video were released to promote Mobile Suit Gundam Thunderbolt. You can check them out below.
Screenshots
Character Designs
Promo Video
Source: Mobile Suit Gundam Website