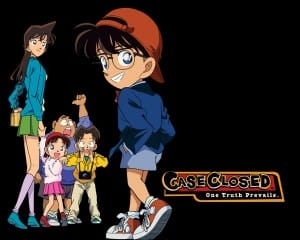 In the world of criminal justice, only one truth prevails!
Earlier today, streaming service Netflix added 52 episodes of Detective Conan to their digital platform. Episodes 748 – 799 are available in subtitled format. In a departure from previous releases, Netflix lists the title as Detective Conan, instead of Case Closed.
Crunchyroll currently streams Detective Conan episodes 754 – 803 on their platform. New episodes are added as they air in Japan.
Detective Conan is based on Gosho Aoyama's manga of the same name. The series, which kicked off in 1996, was animated by studios Tokyo Movie (Episodes 1-626) and V1 Studio (Episodes 627 – Present). Several directors have helmed the series, including Kenji Kodama (City Hunter, Kekkaishi), Kōjin Ochi (Samurai Warriors), and Masato Sato (Tokyo Majin, Ultimate Otaku Teacher). 22 films and 13 OVA projects have been produced, in addition to the TV series.
FUNimation acquired the domestic rights to the series in 2003, which they dubbed and Americanized for western audiences. The adaptation aired on Cartoon Network as part of their Adult Swim block, though it was cancelled due to low ratings.
Source: Twitter (NetflixAnime)