Happy new year, readers, and welcome to the first AniWeekly of 2016! Last year was an exciting one, where old became new, and numerous new classics were born. From Food Wars: Shokugeki no Soma, to One-Punch Man and Young Black Jack, it seemed as if there was something for everybody in the lineup.
As is the custom, the new year is a time for new plans, and new resolutions. So, in the spirit of the occasion, I'd like share my resolution to everybody. In our May 10 installment of the Nerdy Talk podcast, we welcomed Otaku Journalist mastermind Lauren Orsini to the show. Near the end, we made a gentleman's agreement to both finish a book project we were working on. Unfortunately, due to life getting in the way and an opportunity to work on a slightly larger project, I was unable to hold up my end of the bargain. So, I'm not running from it. My resolution for 2016 is to not only plan, but finish my book.
What are your resolutions, everybody? New job, finally get rid of that moldy Angel Tales DVD set? Let us know!
In The News
See you in the funny pages! Precure fans now have another place to turn for their weekly dose of magical girl action. Magic Girls Precure! is getting a manga adaptation, which is slated to première in Nakayoshi magazine's March issue.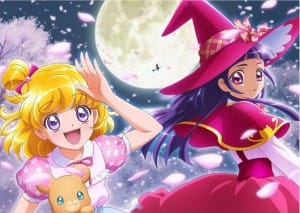 Get ready to attack the delta! Macross Delta was the star attraction of a special on New Year's Eve. During the show, the show's voice cast was unveiled, albeit in "alien language." Through some clever sleuthing, fans were able to deduce the entire lineup.
Berserk! Berserk! Berserk over you! The official Berserk anime website updated with a new promo video, which shows Guts delivering the pain to the forces of the damned.
The revolutio will be televised. Kazuki Nakashima (Kill la Kill, Tengen Toppa Gurren Lagann) officially signed on to co-write season 2 of Concrete Revolutio. Nakashima joins Madoka Magica writer Gen Urobuchi and Masaki Tsuji on the project.
The return to Terra II. AIC announced that their Saber Marionette J project is an OVA, which will be formally unveiled in 2016.

From the AniBlogging Community
Takin' care of business! Otaku Review takes a look at the 11 busiest anime studios in 2015. Who made the most this time around? The answer may surprise you!
Weekly Fun Stuff!
My Neighbor Totoro is, by every meaning of the of the word, remarkable. It's a film that's truly timeless, with countless devoted fans aged three to a hundred. Its incredible soundtrack is ingrained into the memories of fans across the globe, to the point where one could possible recall it from memory, if needed.
On that note, this week, we're highlighting a young lady who performed an incredible medley of tunes from the film, completely from memory. To say it's incredible is an understatement. Seriously.