Komugi is back in business, and ready to make house calls!
Earlier today, Crunchyroll announced that they will stream Nurse Witch Komugi R on their digital platform. The series will kick off on Crunchyroll on January 9, with new episodes being added every Saturday at 12:25PM Pacific (3:25PM Eastern).
The show will be available in the following territories:
United States
Canada
Central America
South America
The Caribbean
Australia
New Zealand
South Africa
Europe
the Middle East
North Africa
Crunchyroll describes Nurse Witch Komugi R as follows:
Komugi Yoshida is an energetic but clumsy middle-school student who performs as an idol. Although her popularity is lacking, Komugi lives a dual life between her two worlds, until a mysterious creature named Usa-P appears before Komugi and grants her the powers of a Legendary Girl. Now Komugi has reluctantly become Magical Nurse, and must add a third life of fighting monsters to her already crowded lifestyle.
Nurse Witch Komugi R is based on the 2002 OVA series Nurse Witch Komugi. Keiichiro Kawaguchi (Hayate the Combat Butler!) is directing the show at Tatsunoko Productions, with character designs by Takao Sano (Chitose Get You!!). The team of Momoko Murakami and Kazuyuki Fudeyasu is writing the screenplay, while Kousuke Yamashita provides the show's music.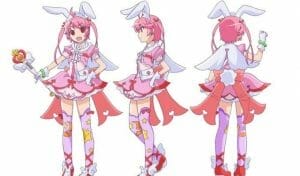 The confirmed voice cast includes:
Komugi Yoshida: Kei Tomoe
Kokona Saionji: Erii Yamazaki
Tsubasa Kisaragi: And Makoto Koichi
Koharu Yoshia: Haruko Momoi
Usa-P: Hiroyuki Yoshino
Tanu-P: Daisuke Namikawa
Neko-P: Ryota Takeuchi
Hiroto Tachibana: Yasuaki Takumi
Ai Mitaka: Shizuka Itou
Toranosuke Matsukawa: Kenta Miyake
Tomoya Yoshida: Kenji Nojima
Kotarō Yoshida: Minami Kabayama
Misuzu-Sensei: Rena Maeda
Tamako: Akane Kohinata
Rei: Eriko Matsui
Miki: Meemu Tachibana
Maki: Madoka Asahina
Film Camera kaijin: Ryusei Nakao
Several character design visuals were released to promote the series, which you can check out below.
Source: Crunchyroll