Welcoem to a brand new anime season, readers! And with a new season, comes a new AniWeekly! If you're tired of all of the simulcast announcements, you're in luck! We're here, and we're tossing every single one out the window to give you a break from the madness.
In The News
Let's go, Voltron Force! Netflix and Dreamworks announced that they've extended a 2013 distribution deal. As part of the agreement, the two companies will produce a modern reboot of classic anime adaptation Voltron.
μ's, Music Start! NIS America revealed the list of theaters that will be showing Love Live: The School Idol Movie in Canada. The feature will be shown in 42 theaters across the nation. Even better, fans who make it to a screening will receive a free poster! (While supplies last)
Prepare for a massive revamp! Anime distributor Funimation announced that they're revamping their online operations. Along with a major rebranding campaign, the company will relaunch its online service under the name FunimationNow. As part of the relaunch, FunimationNow will expand its operations to customers in the United Kingdom.
In like a lion, out like a lamb… the latest issue of Young Animal magazine revealed that studio SHAFT is working on an anime adaptation of March Comes In Like A Lion. Even better, super-director Akiyuki Shinbo (Monogatari series, Puella Magi Madoka Magica) will be helming the show's production!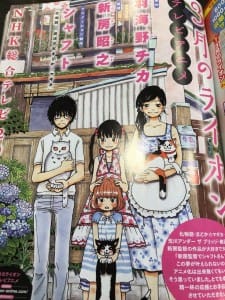 Shiny makeup, get your butts up! The latest issue of Animedia features a new visual for Sailor Moon Crystal. While it's in black and white, the pic gives a first look at Sailors Uranus, Neptune, and Saturn. On a related note, the new season of Sailor Moon Crystal kicks off this spring!
Sharing the μ's! Hatsune Miku and Love Live! idol group μ's are joining forces for the Sapporo Snow Festival! In addition to the annual Snow Miku statue, members of the white-hot school idol group will also appear in snowy forms.
Return of the yandere. Yandere fans, get your hype on! A new live-action TV series based on Higurashi no Naku Koro ni (When They Cry – Higurashi) is in the works! The leading ladies will be played by members of AKB48 sister group NGT48.
It's your love story, my love story, and everybody's love story! Dub fans are in for a treat! Sentai Filmworks revealed that 2015 fan-favorite My Love Story!! is getting an English dub.
From the AniBlogging Community
A new year, a new OASG! The Organization Anti-Social Geniuses, or "OASG" for short, have a new site, and it looks fantastic. The fantastic content is still there, just in a package that better showcases everything Justin and company are able to cover. Seriously – bookmark these folks if you haven't already. You won't regret it.
Blogging, for fun and profit! Lauren at Otaku Journalist is putting together a brief guide on how to post a profit in the world of niche writing. It's still a work-in-progress, but this will certainly be a piece to follow as new installments are added.
Happy anniversary, Ogiue Maniax! Last week, Ogiue Maniax celebrated their eighth anniversary. I'd like to take a moment to offer my congrats, and wish them well going into 2016!
Putting the princess on notice. Otaku Review took Chaika: The Coffin Princess to the reviewing board this week. Normally we don't host reviews in this section, but L.B. Bryant's take on the series was quite interesting in its use of backhanded compliments to drive his point.
Weekly Fun Stuff!
This week, we're highlighting a truly epic effort by Brazilian YouTuber Patricia Fagundes. Fagundes arranged a fantastic medley of 40 anime songs from 23 shows, blending pieces from numerous favorites including Evangelion, Pokémon, and Fullmetal Alchemist. Normally, that would be impressive in itself. Fagundes took things to the next level, though, by performing the arrangement, singing the lyrics, and cosplaying as a character from each series.