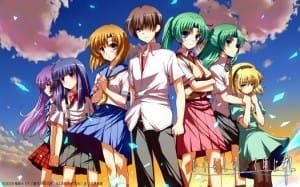 Higurashi won't be erased so easily!
Earlier today, several Japanese outlets reported that When They Cry – Higurashi (Higurashi no Naku Koro ni) is getting a live-action drama adaptation. The series, which will hit BS SkyPerfecTV! in May, will run for eight one-hour episodes. The main cast will be filled by members of AKB48 sister group NGT48, though secondary characters will be decided in auditions.
The series will air on Fridays at 9:00PM local time. Toru Hasegawa is in charge of the show's scripts, while Tōru Ōtsuka and Tarō Miyaoka will collaborate on directorial duties. The project itself is a co-production between Media Mix Japan and SkyPerfecTV!
When They Cry – Higurashi is based on a visual novel by Ryūkishi07 and 07th Expansion. The title received a manga adaptation by Ryūkishi07, which ran in several publications from 2005 through 2011. It also spawned an anime adaptation, which was directed by Chiaki Kon (Sailor Moon Crystal, Junjo Romantica) at Studio DEEN. Kyuta Sakai (Steins;Gate, Rozen Maiden – Zurückspulen) provided character designs on the project, while Rika Nakase and Toshifumi Kawase wrote the scripts.
Geneon Animation originally released the When They Cry – Higurashi anime series in North America. After the company's closure, FUNimation released the title until the license's expiration. Most recently, Sentai Filmworks acquired the series for North America.
Yen Press currently holds the rights to the When They Cry – Higurashi manga. They describe the series as follows:
After a year at boarding school, Shion Sonozaki flees the oppressive institution and secretly returns to her hometown in the mountains, telling only her twin sister Mion of her arrival. Though the Sonozaki family has kept the sisters apart to prevent conflict over who would become the next family head, Mion and Shion have remained close – enough so that Shion can easily impersonate her identical twin. When Shion encounters Satoshi Hojo in town, he is completely taken in by her "Mion" disguise. And Shion is quite taken with him…
You can check out a few shots from the announcement event below:
Sources: Otakomu, Anime! Anime!
Update (1/10/2016): 
Video of the big reveal is now available online. You can check it out below.
https://www.youtube.com/watch?v=9rx6Kcn4iKs
Source: Seiyu Fan (Thanks, L.B. Bryant for the tip!)