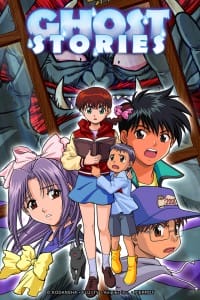 There's something strange in the neighborhood. Who you gonna… wait, wrong franchise!
Earlier today, Crunchyroll announced that they added Ghost Stories (Gakkou no Kaidan) to their streaming lineup. The series is available in both dubbed and subtitled formats for members in the following territories:
United States
Canada
United Kingdom
Ireland
Australia
New Zealand
The first ten episodes are available for free members, the final ten episodes due next week. All 20 episodes are available to Premium subscribers.
Ghost Stories originally aired on Japanese TV in 2000. Noriyuki Abe (Great Teacher Onizuka, Bleach, Black Butler: Book of Murder) directed the title at Studio Pierrot. Masaya Onishi provided character designs on the project, while Hiroshi Hashimoto (Zatch Bell) was tasked with series composition.
Crunchyroll describes Ghost Stories as follows:
When nearby construction disturbs a spiritual resting place, it's disgruntled denizens so what any supernatural being would do after a rude awaking – they terrorize the local school.

And that means it's up to a scruffy band of young ghost hunters to expel their satanic schoolmates before everyone gets sent to permanent detention! Meet Satsuki, her crybaby brother, the resident class stud, the school nerd and "psychical researcher," a born again beauty, and a resentful, demon-possessed cat in the funniest, scariest school you've ever enrolled in.
ADV Films originally released Ghost Stories in North America in 2005. The series quickly earned the ire of a number of fans due to its dub, which made drastic changes to the script to give the series a comedic flair.
Source: Crunchyroll