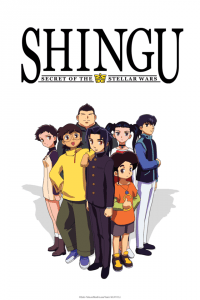 It's a stellar war, but it sure ain't Star Wars.
Earlier today, Crunchyroll announced that they added Shingu: Secret of the Stellar Wars to their streaming lineup. The series is available in its entirety to Crunchyroll members in the United States and Canada.
Shingu: Secret of the Stellar Wars is an original title from studio Madhouse. The series was directed by Tatsuo Sato (Bodacious Space Pirates, Lord Marksman and Vanadis), who also wrote the scripts and took charge of series composition. Takahiro Yoshimatsu (Hunter × Hunter, Slayers – The Motion Picture) provided character designs, while Yuji Ohno (Lupin III) scored the soundtrack.
Crunchyroll describes the series as follows:
The world is about to be turned upside down for Hajime Murata. First, an alien ship appears over Tokyo, and then a mysterious new student shows up at his school. Suddenly, students are displaying psychic powers, a giant defends the city from aliens, and men armed with weapons are lurking around the school. Now Hajime is determined to discover the truth behind a world he thought he knew!
In addition to Shingu, Crunchyroll will stream Sound of the Sky Episode 7.5. The episode is currently available to members in the United States and Canada.
Nozomi Entertainment currently holds the domestic rights to both titles.
Source: Crunchyroll