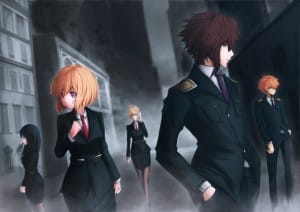 A new visual novel is on the way to Kickstarter!
Last week, indie game studio Igrasil Studio kicked off on its first project, Bloody Chronicles. The title is currently slated to be a three-part visual novel, which will carry player choices through the series to influence the final ending.
Igrasil describes the plot as follows:
The plot focuses on the character of Kazuki who lost his parents in an accident. After graduating from the police academy he was recruited by the non-governmental organization Igrasil which solves murders the police deem are impossible to explain due to lack of evidence.

Kazuki's partners in the organization include the crazy and funny Ishikawa siblings; Kaoru Moriyama, the daughter of a millionaire and the founder of the whole organization; and Suzumi, the head of the organization who is responsible for making all the major decisions.
The studio is currently planning to offer 40 hours of gameplay across the series, with each episode several chapters. Each chapter will be broken into seven in-game days, in which players can work to help or hinder the overall investigation.
Unique to Bloody Chronicles's development is a new "Helper System", in which Igrasil Studio will accept suggestions and offers to help from the community. In many ways, this isn't unlike the "CrowdProduction" aspects of AnimEigo's recent Kickstarters, as it pulls the backer into the proverbial sausage factory.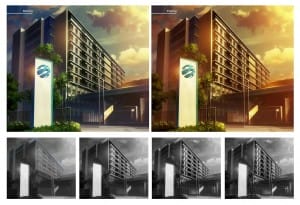 When asked about the Helper initiative, a representative from Igrasil commented that "We believe that working with fan feedback in mind, we can develop a great visual novel with a storyline filed with twisted and unique routes."
Igrasil Studio is an internationally based organization, led by Piotr Jarosz. The company currently employs 14 current members, as well as a pair of confirmed Helpers. According to a representative, "The idea for the Bloody Chronicles project was created in February 2015 by a Japanese-Polish creative team; it is currently led by Piotr Jarosz and was later name the Igrasil Studio."
As a closing comment, Igrasil Studio's representative offered the following:
As aforementioned, we're a small studio that is getting into game development, so any support would be great! We currently have a presence on Patreon and Facebook, and pretty soon we'll be focusing our efforts on crowdfunding (most likely Kickstarter) to help fund our game. We would appreciate if you checked us out on social media!
As of press time, the scenarios for the game's first five chapters are complete. Actual development of the Prologue is just over 25% finished. A 60-second teaser for the title is available, which you can check out below:
https://www.youtube.com/watch?v=F0XyoqlMHsE
Igrasil Studio will open a Kickstarter in the near future to further fund the project. We'll be following the story as it develops.
Source: Igrasil Studio