Memories are always beautiful, but with just them, your stomach will feel empty…
Earlier today, the official website for multimedia project Endride opened its doors. The project, which is planned to be both an anime series and a smartphone game, features character designs by Kazushi Hagiwara (Bastard!!) and Nobuhiro Watsuki (Rurouni Kenshin).
The anime series, which hits NTV and other channels this April, will run for 24 episodes. Kiddy Grade director Keiji Gotoh will helm the project at Brain's Base, with scripts being written by Touko Machida (Show by ROCK!!, Lucky Star).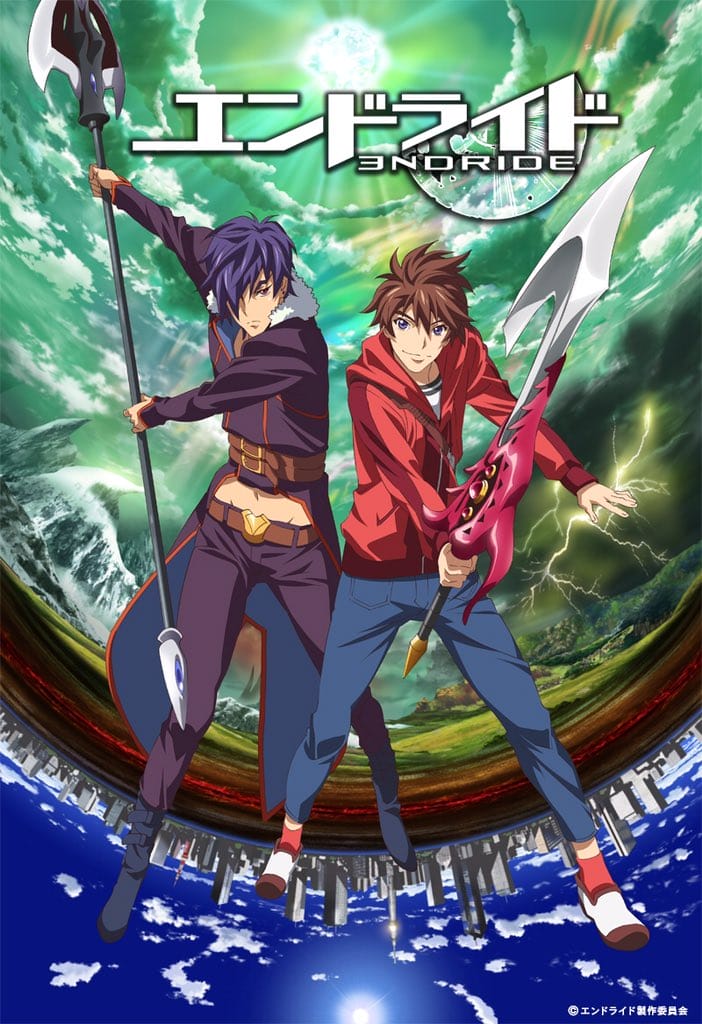 Nobuhiro Watsuki crafted the character design for Shun Asanaga, while Kazushi Hagiwara created Emirio's design.
The confirmed voice cast on the project includes:
Shun Asanaga: Kensho Ono
Emirio Ranguhaimu: Toshiki Masuda
Arishia: Karen Miyama
Fararion: Ayaka Ohashi
Demetorio: Hiroki Takahashi
Erujuia: Kousuke Toriumi
The show's plot is set in the land of Endra, a mysterious world that resides beneath our very feet. It's in this world where the great Adamas casts its light above, and paints the skies with seven colored bands of light.
One day, a 15-year old middle school student named Shun Asanaga is transported to Endra from Earth or, as the locals call it, the "Land Above." Shun's trip, of course, was an accident. He discovered a strange crystal at his father's company, and was brought to Endra the moment he touched it.
Shun soon crosses paths with Prince Emirio, a strong-willed 16 year old with a bit of a bone to pick with reigning King Deruzain. Emirio just celebrated his 16th birthday, which means that he's of age to ascend to the thone. Wielding his weapon, Emirio storms the castle, but is quickly overpowered. He's imprisoned by the malevolent king, but his stay isn't as lonely as one might expect. The walls of the prison distort, and Shun finds himself inside the cell.
Voice actors Ono, Miyama, Ohashi, Takahashi, and Toriumi will appear at a stage event at Anime Japan 2016 to promote the project. The show, which is being held on March 26 at 12:20PM, will introduce the show and the smartphone game. A new promotional video will be shown at the event, and a short talk session will be held between the cast members.
The website also contains a second visual for the project, which you can check out below.
The smartphone component, Endride ~X fragments~, features original character designs by Watsuki and Hagiwara, illustrations by Hidari (Atelier Ayesha: The Alchemist of Dusk), and a scenario written by by Tales of the Abyss scribe Takumi Miyajima. The title will launch later this year, though pre-registrations will open in April.
Source: Comic Natalie, Endride Website