The thunderbolts are out in full force tonight!
Yesterday, Bandai Visual started streaming a second promotional video for Mobile Suit Gundam Thunderbolt's second episode. The minute-long promo is an extension of last week's 20-second teaser, which sets several battle scenes to a mournful vocal piece.
In addition, the company released a new visual for the episode: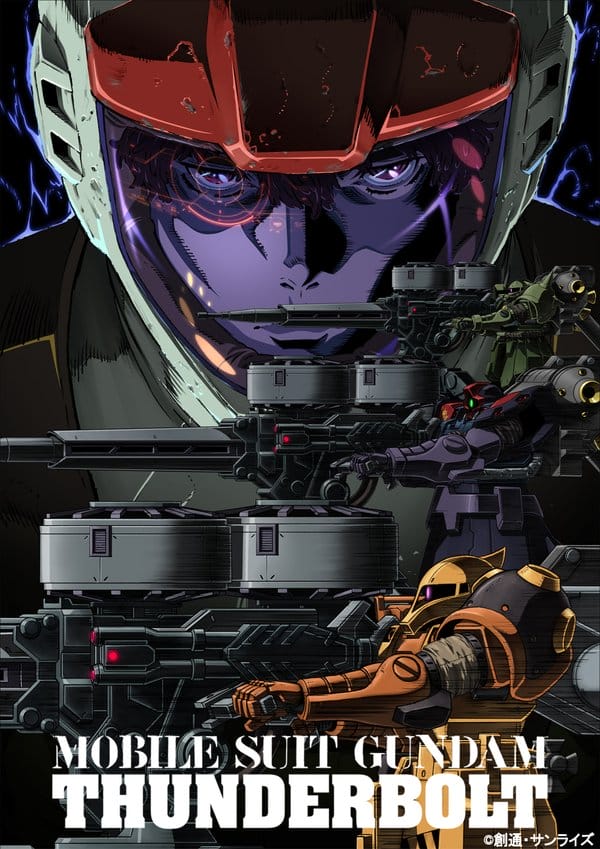 The second episode will hit streaming services on February 12, at noon Japan Standard Time. Gundam Fan Club members will be able to catch the chapter on January 29. The 18-minute installment will carry a purchase price of 800 yen ($6.74 USD) and 400 yen ($3.37 USD) to rent. Much like its predecessor, episode 2 will include bonus materials for those who purchase.
In North America, Daisuki will distribute the episode for digital rental. The feature, which will also be available on Google Play, Amazon Instant Video, and the PlayStation network, will be available in all territories outside of Japan and China. The current rental fee is $6.99 for a 72 hour viewing period.
Mobile Suit Gundam Thunderbolt is based on Yasuo Ohtagaki's manga of the same name. The four-episode OVA series is being helmed by Gundam UC director Kou Matsuo at Sunrise. Hirotoshi Takaya (Texhnolyze) is providing character designs, while the team of Morifumi Naka (A Wind Named Amnesia, Texhnolyze), Seiichi Nakatani (Gundam 00), and Hajime Katoki (Gundam Wing, Mobile Suit Gundam: The 08th MS Team) handles mechanical designs. Scripts were written by director Kou Matsuo.
The confirmed voice cast includes:
Io Fleming: Yūichi Nakamura
Daryl Lorentz: Ryohei Kimura
Claudia Palh: Toa Yukinari
Kara Mitchum: Sayaka Ohara
Cornelius Caca: Daisuke Hirakawa
Graham: Shunsuke Sakuya
Burroughs: Mutsumi Sasaki
J.J. Sexton: Hiroshi Tsuchida
The first episode of Mobile Suit Gundam Thunderbolt was released on Christmas day at noon Japan local time.
You can check out last week's 22-second teaser below.
https://www.youtube.com/watch?v=QwM8MieMCI4