Edward Elric's adventures may be falling from the public eye for a while.
Streaming service Hulu began listing an expiration date for all Fullmetal Alchemist. The series is currently slated to be removed from the service on the following dates: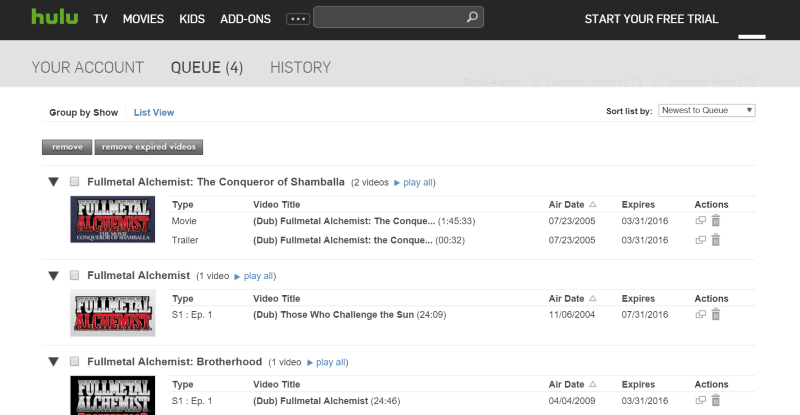 As of press time, we have no indicators as to whether this will affect other networks like Netflix and Funimation's streaming platform. We've reached out to Funimation for more information. 2011 film Fullmetal Alchemist: the Sacred Star of Milos is currently not available on the service.
All Fullmetal Alchemist titles are based on Hiromu Arakawa's manga of the same name.
Fullmetal Alchemist: Brotherhood is a reboot of the franchise that originally aired in the spring 2009 broadcast season. Yasuhiro Irie (Code: Breaker) helmed the series at Bones, with Hiroki Kanno (RahXephon, Yu Yu Hakusho The Movie: Poltergeist Report) providing character designs. Hiroshi Ohnogi (Birdy the Mighty: Decode, Kekkaishi) took charge of series composition on the project.
Funimation currently holds the domestic rights to the Fullmetal Alchemist anime franchise in North America.
Source: Twitter (User tomalvarez2326) (Thanks to MJ Warren for the tip!)