It's up to PonyCan to restore the world! …You'll just have to pay for that first.
Yesterday, PonyCan USA revealed their release plans for Garakowa -Restore the World-. The film will be sold as an import edition Blu-Ray, which will carry a retail price of $89.98. The feature will be presented in Japanese with English subtitles.
The feature will be presented as a set, which includes an 88-page companion book (plus translation), as well as singles Sendan Life by Yumiri Hanamori (Remo), Insomnia by Risa Taneda (Dual), and Hello by Ayane Sakura (Dorothy).
The packaging will feature a box illustrated by original character designer Kantoku, as well as a digipak with illustrations by animator Toshie Kawamura.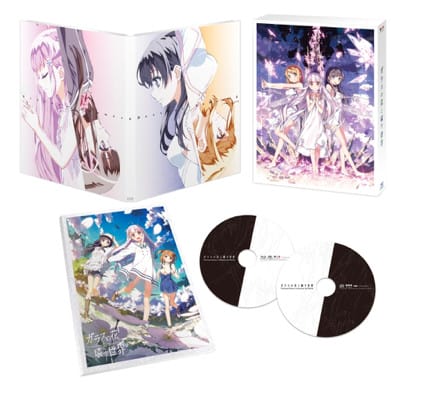 Garakowa -Restore the World- will hit retailers on April 10. Fans who pre-order before February 29 will also receive a random illustration card, which features one of the four main characters.
The film is also available for streaming on Crunchyroll.
Garakowa -Restore the World- hit Japanese theaters in October 2015. The film was directed by Masashi Ishihama (Kamichu!, Night Raid 1931) at A-1 Pictures, with character designs by Shin'ya Segawa. Fumihiko Shimo (Amagi Brilliant Park, Full Metal Panic!) wrote the script.
PonyCan USA describes Garakowa -Restore the World- as follows:
A space inhabited by multiple worlds, countless timelines and a diversity of people, where Dual and Dorothy battle the enemy – viruses encroaching on the world. A world infected by a virus must be deleted. This is Dual and Dorothy's responsibility and job. One day, Dual and Dorothy discover a new virus attacking a girl. They save the girl and quietly wait for her to awaken. Who is she? Where did she come from? Where will she go? The girl finally awakens. She calls herself "Remo" and has only one thing to say: "I have to return to the flower garden…"
Source: Anime News Network
Editor's Note: With a $89.98 price tag, this 66-minute film has an estimated cost of roughly $1.36 per minute.