Digivolve into promotions!
Earlier today, the official Digimon Adventure tri. website updated with a new trailer for the upcoming Digimon Adventure tri. Ketsui. The 2-and-a-half minute trailer shows several battle scenes, which are sandwiched between shots of the human cast in their own world.
The teaser ends with a teaser for Digimon Adventure tri. Kokuhaku (Confession), which opens in Japanese theaters this summer.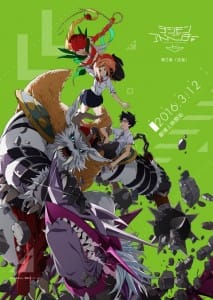 Digimon Adventure tri. is slated to be a series of six theatrical films. The first feature opened in Japanese theaters on November 21. The second chapter, subtitled Ketsui, will hit Japanese theaters on March 12.
Crunchyroll is currently streaming the first Digimon Adventure tri. film outside of Japan as four "episodes." The company is currently offering the title in the following territories:
United States
Canada
South Africa
Australia
New Zealand
Latin America
The first promo video hit the web last month. You can check it out below:
Source: Twitter (Digi_advntr15th)