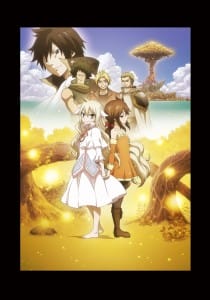 The Fairy Tail guild is ready for its first-ever adventure!
Earlier today, Funimation announced the English dub cast for Fairy Tail Zero. The series will star the following:
Mavis Vermillion: Leah Clark
Yuri Dreyer: Clifford Chapin
Warrod Sequen: Cris George
Precht Gaebolg: David Trosko
Zera: Jeannie Tirado
Tyler Walker is filling the dual role of director and lead writer on the dub, while Aaron Dismuke serves as assistant director. The team of Patrick Morphy, William Dewell, and Zachary Davis are working as ADR Engineers.
The series is streaming as part of Funimation's Broadcast Dubs lineup, with the first episode hitting earlier tonight.
Fairy Tail Zero is based on Hiro Mashima's prequel to his long-running Fairy Tail manga. Shinji Ishihira (Fairy Tail, Log Horizon) is helming the show at A-1 Pictures and Satelight. Aoi Yamamoto (Fairy Tail, Re-Kan!) is providing character designs on the project, while Masashi Sogo (Fairy Tail, The Prince of Tennis) tackles series composition.
Funimation describes the show as follows:
This prequel series depicts the founding of the Fairy Tail guild. Many years ago, Mavis Vermilion was a servant on Sirius Island, mistreated by a guild master and his daughter, Zera. But Mavis stayed positive, because her mother once told her that fairies never visit people who cry about their problems. When the guild came under attack, Mavis pulled Zera from the wreckage into the forest. Seven years went by, and the powerful wizards Warrod Sequen, Precht, and Yuri Dreyer arrived on the island, seeking a powerful jade gemstone. This journey would change the course of magical history.
Source: Funimation Blog