Welcome, readers, to a special Valentine's Day version of AniWeekly! It's been an exciting week, with plenty of news to set fans' hearts aflutter. From high school bands, to a surprise Toonami reveal, there was no shortage of excitement.
In The News
Welcome to the Kitauji High School concert band! Last week, Kyoto Animation released a 90-second promo video to promote upcoming film Sound! Euphonium the Movie: Welcome to the Kitauji High School Concert Band. The movie hits Japanese theaters on April 23.
Beware the Hitagi Crab. Vertical Entertainment announced that they've licensed the Bakemonogatari light novels. The first book will ship to retailers in December.
New novel announcement:
BAKEMONOGATARI
The volumes starting December 2016 pic.twitter.com/R3zc4bMMPD

— Vertical, Inc. (@vertical_staff) February 13, 2016
Welcome to the Dimension Toonami! Adult Swim's Toonami block is getting a new show later this month! The block will add Dimension W starting on February 27.
Card games, for fun and wishes. Warner Brothers posted a video to their YouTube channel, which features the first eight minutes of Selector Destructed Wixoss. While there are no subtitles, it's a great way to get an early glimpse at the film.
Let's go, Voltron Force! Netflix released a teaser visual for their upcoming Voltron series. Though there isn't much to the picture, it's a start.
Coming soon: Juden-chan, in HD! Media Blasters announced that they'll release Charger Girl Juden-chan on Blu-Ray.
She's a real space case… if you catch my drift. Crunchyroll announced that they'll simulcast Space Patrol Luluco when the series kicks off on April 1.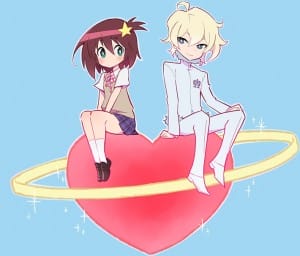 From the AniBlogging Community
The allure of the library. In today's world, the library seems almost like an anachronism. We're at a point where thousands of books can fit into a palm sized tablet, and almost every piece of literature a person could want can be had with just a few clicks of a mouse or a few taps of a touch screen. Still, there's an undeniable charm about a place devoted to the preservation of knowledge as we know it. Manga Therapy published a short piece arguing the same, in the aptly titled Why I Still Think Libraries Are Cool.
Talking about SAD with Tomoko Kuroki. Social Anxiety Disorder is a big deal. It's a debilitating disorder which affects 12% of adults at some stage of their life. Neomo from Anime Solstice uses 2014 series Watamote to discuss SAD, and its very real implications.
One hit wonders, rejoice! The folks at Anime Instrumentality round up 11 composers who produced truly stellar work within their tiny portfolios.
Aniblogging isn't for everyone… For the past few years, Lauren Orsini has been writing works on how to make your geek dreams turn into a real career. With two books and countless articles, she's covered everything from getting started, to the crazy minefield of affiliate marketing. Still, it's not a job for everybody. With long nights, lots of work that you might not want to do, and a schedule that can sometimes border on lunacy, it's little wonder that most blogs fold within their first year. As a cautionary piece, Lauren put together a short article that highlights five reasons why watching anime for a living might not be for you.
Weekly Fun Stuff!
Goku really gets around! Earlier this month, YouTuber 葉式特工 (Yè shì tègōng) took to the streets Taipei, dressed as Goku and riding an automated Flying Nimbue. The reactions, from the smiling children to the truly confused adults, are nothing short of amazing.