It's a video game, it's a rice ball, it's an anime. It's Onigiri!
Earlier today, the official Onigiri anime website updated with a new key visual. The image, which we've provided below, showcases the show's nine main characters.
Onigiri is based on Cyberstep's massively multiplayer online RPG of the same name. Takashi Yamamoto (Nanatsuiro Drops, Jewelpet Twinkle) will direct the project at studio Pierrot Plus, while Yukiko Ibe (Nanatsuiro Drops, Jewelpet Twinkle) fills the dual role of character designer and chief animation director. Takamitsu Kouno (Utawarerumono: The False Faces, We Without Wings) will take charge of series composition. The remaining staff includes:
Scripts: Takashi Aoshima
Scripts: Atsushi Oka
Art Director & Background Artist: Satoshi Shibata
Color Design: Junko Tsukidate
Prop Design: Kazutoshi Azuma
Sound Production: Zack Promotion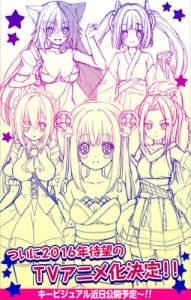 Idol group Starmarie will perform the show's opening song, Hime wa Rankiryu☆Goikkou-sama. The group previously performed the fourth ending theme for Cardfight!! Vanguard G.
Onigiri will kick off on Tokyo MX and BS Fuji on April 4, at 1:00AM local time.
The original game made its début on PC in December 2013, which was followed by a North American release in July 2014. The title also hit Sony's PlayStation 4 and Microsoft's XBox One consoles last year.
Onigiri received a three-episode web anime, which was directed by ROMANoV HiGA (Lovely Muco!). We've provided all three episodes below, but warn that these are not safe for work.
Episode 1
Episode 2
Episode 3
Source: Anime! Anime!