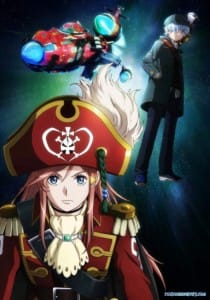 This summer's going to get a little more bodacious!
Earlier today, Section23 Films unveiled their June 2016 release calendar. In the lineup, the company revealed that Sentai Filmworks will release Bodacious Space Pirates: Abyss of Hyperspace ((Mōretsu Pirates: Abyss of Hyperspace -Akū no Shien-) on June 14. The release will ship on DVD and Blu-Ray formats in both dubbed and subtitled formats.
Bodacious Space Pirates: Abyss of Hyperspace the sequel to 2012 TV series Bodacious Space Pirates. Director Tatsuo Sato (Martian Successor Nadesico, Lord Marksman and Vanadis) also wrote the screenplay for the project, while studio Satelight produced the animation. Osamu Horiuchi (Full Metal Panic!, Last Exile) filled the dual role of character designer and chief animation director.
Bodacious Space Pirates: Abyss of Hyperspace hit Japanese theaters on February 22, 2014. Section23 Films describes the feature as follows:
It's not easy being the captain of a space pirate ship. Especially when you're still in high school and aren't allowed to do normal pirate-stuff like rob and plunder. However, despite those restrictions, Marika Kato has proven herself worthy of commanding the Bentenmaru. And if staging performances such as pretending to board and pillage space cruise ships doesn't pay as well as actually stealing stuff… well, at least no one gets hurt, right? But things take a sinister turn when Marika and her crew are hired to raid the luxury liner Begin The Beguine. Because one of the passengers has a hidden secret and agenda of his own. And it begins with being kidnapped! Suddenly the Bentenmaru and their new "hostage" are being pursued by other warships and the race is on for what could be the biggest prize of all! Batten your hatches and prepare to have your timbers shivered as Marika and her crew set sail for their highest adventure yet in BODACIOUS SPACE PIRATES – THE MOVIE!
Source: Anime Herald