The Death Busters are coming. Are you ready?
Yesterday, the official Sailor Moon website updated with a new promo video for Sailor Moon Crystal. The 30-second teaser features the Sailor Guardians, as well as Dr. Tomoe and Hotaru.
In addition, the site revealed new information on the season's theme songs. Etsuko Yakushimaru will write and perform opening theme In Love With New Moonz, while Junko Minagawa (Sailor Uranus) and Sayaka Ohara (Sailor Neptune) will perform ending theme Eternal Eternity.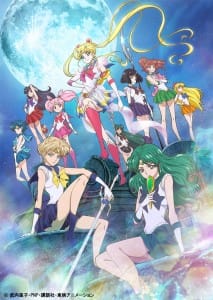 Sailor Moon Crystal's third season will begin airing on April 4, on Tokyo MX. The season will revolve around the "Death Busters" arc of the Sailor Moon manga, bringing Sailor Uranus, Sailor Neptune, and Sailor Saturn into the fold, along with Mistress 9 and the malevolent Death Busters organization.
Chiaki Kon (Junjo Romantica) is replacing Munehisa Sakai, who directed the first two seasons. Akira Takahashi (Smile PreCure) will take over for Yukie Sakou as character designer on the project, as series writer Yuji Kobayashi returns to take charge of series composition.
The confirmed cast includes:
Usagi Tsukino(Sailor Moon): Kotono Mitsuishi
Ami Mizuno(Sailor Mercury): Hisako Kanemoto
Rei Hino(Sailor Mars): Rina Satou
Minako Aino(Sailor Venus): Shizuka Itou
Makoto Kino(Sailor Jupiter): Ami Koshimizu
Chibiusa (Sailor Chibi Moon): Misato Fukuen
Mamoru Chiba(Tuxedo Mask): Kenji Nojima
Haruka Tenou (Sailor Uranus): Junko Minagawa
Michiru Kaioh (Sailor Neptune): Sayaka Ohara
Hotaru Tomoe (Sailor Saturn): Yukiyo Fujii
Luna: Ryou Hirohashi
Artemis: Youhei Oobayashi
Kaolinite: Hikari Yono
Professor Tomoe: Takuya Kirimoto
Pharaoh 90: Takaya Hashi
Mimete: Yuki Nagaku
Eudial: Chiaki Takahashi
Viluy: Rina Hon'izumi
Tellu: Naomi Ōzora
Cyprine: Umeka Shouji
Viz Media currently holds the domestic rights to Sailor Moon and Sailor Moon Crystal. The series is currently available for streaming on several platforms, including Crunchyroll and Hulu.
Source: Anime Recorder