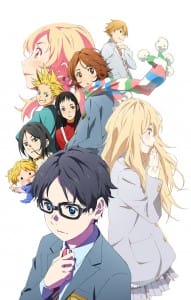 Even though the con's in March, Anime Boston's bringing a lot of Your Lie In April love!
Earlier today, Anime Boston announced that they are partnering with Aniplex of America to host a launch party for the Your Lie In April Blu-Ray release. Kyohei Ishiguro (Director), Yukiko Aikei(Character Designer), Patrick Seitz (English ADR Script Writer and Director), Max Mittelman (Voice of Kousei Arima), Erica Lindbeck (Voice of Kaori Miyazono), and Carrie Keranen (Voice of Hiroko Seto) will host the event on Saturday, March 26 in Hall D, at 1:30PM.
The first three dubbed episodes of your Lie In April will be streamed, as well as a blooper reel. This will be followed by a Q&A session with the guests.
In addition, Aniplex will host a Your Lie In April Creators' Panel & Live-Drawing Demonstration, which will be hosted by Ishiguro and Aikei. This will take place on March 25, at 3:00PM. Anime Boston describes the panel as follows:
They will share their experiences working on the show while doing a live-drawing demonstration just for the fans who attend this panel! Whether you're a long-time fan of Your lie in April or just recently fell in love with the series, join us for a fun and interactive event with the creators!
Aniplex will offer the first volume of the Your Lie In April Blu-ray in the Dealer's Room. The release, which contains the show's first 11 episodes, carries a retail price of $159.98, which breaks down to roughly $14.54 per episode.
Your Lie In April adapts Naoshi Arakawa's manga of the same name. The 22-episode series originally aired from October 2014 through March 2015. In North America, Aniplex of America streamed Your Lie In April in North America as it aired in Japan. The series is currently available in subtitled format on Aniplex Channel, Hulu, and Crunchyroll.
Source: Anime Boston