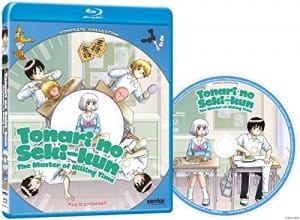 The master of procrastination's ready to laze his way into stores!
Earlier today, Sentai Filmworks announced the English dub cast for Tonari no Seki-kun: The Master of Killing Time. The series will star the following:
Rumi Yokoi: Monica Rial
Toshinari Seki: Blake Shepard
Adachi: Andrew Love
Mr. Yellow Tie: Vic Mignogna
Uzawa: Corey Hartzog
Tomako: Jad Saxton
Sakura: Caitlynn French
Naka: Carolyn Medrano
Narrator: David Wald
Brittany Deans is directing the adaptation.
Tonari no Seki-kun is based on Takuma Morishige's manga of the same name. Yuji Mutoh (Crayon Shin-chan, Ultimate Girls) directed the series at Shin-Ei Animation, with Masae Ōtake (Mysterious Joker) providing character designs.
Sentai Filmworks describes the series as follows:
He's a pest. A menace. And worst of all, he sits next to her in class. All Yokoi wants is to be able to pay attention to her teacher's lessons, but somehow her focus is always pulled away to what Seki is up to. Because he's always up to something, whether it's playing a game or building some mind-boggling creation on his desk. While their teacher is speaking! While Seki should be taking notes! And yet Yokoi is the only one who ever notices. She's the only one who sees disaster looming as Seki's nefarious plans slowly build to their evil fruition. And worst of all, while Seki always seems to get away with it, the constant distractions and paranoia that he's inducing in Yokoi keep getting HER into trouble! It's just not fair! But despite the consequences, Yokoi finds herself unable to look away. To ignore him. So with every class, the tension and torture begin again in TONARI NO SEKI-KUN!
Tonari no Seki-kun originally aired during the Winter 2014 broadcast season. Sentai Filmworks will release the series on DVD and Blu-Ray on April 12. Crunchyroll currently offers the title in its entirety on their digital platform.
Vertical holds the rights to the Tonari no Seki-kun manga.
Source: Sentai Filmworks