At least, the traveler to Gaea has made her entrance!
Earlier today, Funimation announced that Caitlin Glass (Fullmetal Alchemist, Ouran High School Host Club, Attack on Titan) will play the role of Hitomi in the company's updated Vision of Escaflowne dub.
Earlier this week, the company revealed that Aaron Dismuke (Blood Blockade Battlefront, The Heroic Legend of Arslan, Fullmetal Alchemist) will play the role of Van Fanel, while Sonny Strait (Ouran High School Host Club, Fullmetal Alchemist) directs the adaptation.
In addition to the dub news, Funimation revealed that they will upgrade several reward tiers. Fans who back the Collector's Edition will receive a Kickstarter exclusive art box, as well as a replica deck of Hitomi's tarot cards.
Funimation's Kickstarter to re-dub Vision of Escaflowne officially launched on February 27. In an interview with Anime News Network's Zac Bertschy, Funimation brand manager Jennifer Fu explained the need for a new dub on the series:
So basically there was the original dub that came out and it's based on SD materials that, as you're aware, the director's cut, the HD Japanese version that was released on Bluray more recently, has scenes that were not in the original materials that the original English dub was based on. So because of that it's not possible for us to put the subtitled HD material which is what we've just received from Japan, on the same disc as the original dub, because otherwise it doesn't line up correctly and there are some points where the dub just won't have any dialogue or anything in it and it'd just be kind of strange.
Funimation noted that the $150,000 goal wouldn't cover the full cost of a new English adaptation.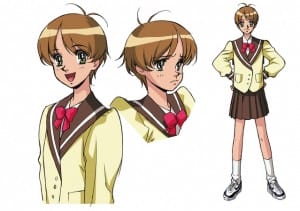 The campaign reached its goal on March 1, and passed its first stretch goal of $200,000 on March 10. As of press time, the campaign stands at $211,175 donated across 1,400 backers, leading to an average contribution of $150.84 per backer.
Three stretch goals are currently in play:
$200,000: Behind the Scenes featurettes and interviews (Funded)
$250,000: Upgraded box art, and art book added to Kickstarter Edition copies
$500,000: Backers-only Escaflowne party at a major US anime convention, with director Kazuki Akane in attendance as a guest.
Bandai Entertainment originally released The Vision of Escaflowne in 2000. Funimation announced that they acquired the domestic rights to the series in 2013, as well as several other Bandai Entertainment titles that include Outlaw Star and My-HiME.
Source: Kickstarter