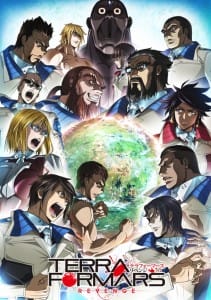 Crunchyroll's heading back to Mars for a second round!
Earlier today, Crunchyroll announced that they will stream Terraformars Revenge on their digital platform. The series will begin streaming on April 1 for subscribers in the following regions:
United States
Canada
Australia
New Zealand
South Africa
Europe
South America
Central America
The Middle East
Terraformars Revenge is the sequel to 2015's Terraformars anime series. Michio Fukuda (Hyakko!, Nura: Rise of the Yokai Clan: Demon Capital) is directing the project at studios Liden Films and TYO Animations. The team of Atsushi Ikariya (Fate/stay night: Unlimited Blade Works, Fate/Zero) and Cagetzu Aizawa (Digimon: The Movie, Slayers Gorgeous) is tasked with character design duty, while Naruhisa Arakawa (Elemental Gelade, Blue Seed) takes charge of series composition.
The confirmed voice cast includes:
Shōkichi Komachi: Hidenobu Kiuchi
Marcos Eringrad Garcia: Kaito Ishikawa
Alex Kandori Stewart: Kenn
Michelle K. Davis: Shizuka Itou
Akari Hizamaru: Yoshimasa Hosoya
Yaeko Yanasegawa: Aki Toyosaki
Joseph G. Newton: Akira Ishida
Kanako Sanjō: Chiaki Takahashi
Keiji Onizuka: Daisuke Ono
Jet: Hidenori Takahashi
Ivan Perepelkina: Kenji Akabane
Hong: Nozomi Sasaki
Xi Chun-Li: Sayaka Ohara
Liu Yiwu: Tetsuo Komura
Ichirō Hiruma: Tomokazu Sugita
Aleksandr Asimov: Tooru Nara
Sylvester Asimov: Unshou Ishizuka
Bao Zhilan: Yuuki Ono
Crunchyroll describes the series as follows:
Summary: 2620 A.D. In order to find a vaccine for the virus from Mars with a death rate of 100% called the Alien Engine Virus, Hizamaru and the crew went to Mars to get a sample of one of the giant cockroach creatures, otherwise known as Terraformars. An unforeseen accident happens, and while Akari and the others fight the roaches to try to escape, humanity is fighting with each other behind clothes doors. The ultimate story of survival with Mars as the background… Round 2 is about to start!
Crunchyroll also streamed the original Terraformars as it aired in Japan. Last week, Viz Media announced that they acquired the domestic rights to the series, as well as Jojo's Bizarre Adventure.
Source: Crunchyroll