Media Blaster's out to Make America Pervy Again (TM)!
Earlier today, Media Blasters annoucned that they acquired the domestic rights to My Wife Is The Student Council President (Okusama ga Seitokaichō!). The series will hit stores this summer, with an English dub.
Liberate your love with our newest acquisition, My Wife is the Student Council President-coming this summer! Teaser: pic.twitter.com/bCNGNmER2I

— Media Blasters (@Media_Blasters) March 25, 2016
As of press time, the company hasn't confirmed whether the show will be released on DVD or Blu-Ray.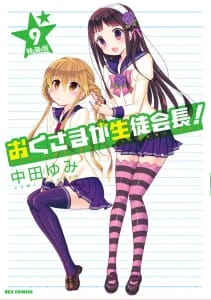 My Wife Is The Student Council President is a short-form comedy, which aired during the Summer 2015 broadcast season. Hiroyuki Furukawa filled the dual role of director and character designer at studio Seven.
The series' voice cast includes:
Ui Wakana: Ayana Taketatsu
Hayato Izumi: Kazuyuki Okitsu
Ayane Niikura: Aoi Fujimoto
Sawatari: Juri Nagatsuma
Rin Misumi: Minami Tsuda
Kei Misumi: Ryoko Shiraishi
Misato Wakana: Tomoko Kaneda
Karen Fujisaki: Yoshie Sugiyama
In January, the 9th volume of Yumi Nakata's My Wife Is The Student Council President manga revealed that a second season of the show is in the works. Publisher Ichijinsha posted a 1-minute teaser to promote the news:
Source: Twitter (Media_Blasters)