Editor's Note: Last year, we did write-ups for Funimation and Aniplex. As we dont' want to turn this into a repeat session, we'll be writing up just Crunchyroll. However, we do have photos from several other industry events, which will be filtered in through our other pieces.
For many of us in the journalistic side, industry panels have become something of a fact of life. Every year, we turn out, notebook at the ready for any potential news that could arise from the presentation. It's a bit of a ritual, practiced and honed to the point that the entire experience is two parts spectacle to one part infomercial.
That's not to say that these events aren't entertaining, mind you. There's something charming about being in the audience, surrounded by fans as favorite titles are repped and upcoming projects are hyped by trailers and Powerpoint slides. That's not to begin to mention the surprises. New title reveals, crazy releases, or even just bits of news that won't hit the web until after the panel can turn an entertaining hour into something truly special.
That hunt for the remarkable is infectious. Everybody wanted to "be there' when Viz Media unveiled Sailor Moon at Anime Central, just as a room packed with people became the envy of many when they were in the audience for Funimation's Kodocha license at Anime Boston 2004. It's the chance to become a part of something big, something truly magical.
It's this mindset that's driven industry panels to become major fixtures, where line-ups begin hours before the doors even open for admission. This year's Anime Boston proved to be no different. This year, all eyes were on Crunchyroll as they were the major sponsors of Anime Boston 2016. They were hosting several major events, including an advanced screening of Space Patrol Luluco and a 5:30AM simul-panel with Japan. Certainly, they had something up their sleeves, right?
Adam Sheehan and Victoria "SailorBee" Holden took the stage of a packed house, a Crunchyroll logo projecting onto the screen behind. They opened the event with a short video teaser. As it ended, the two got to work promoting Crunchyroll's premium subscription. Citing the ad-free and HD streams, simulcasts, the two boasted about Crunchyroll's 20,000 episodes which span a full 306 contiguous days of content.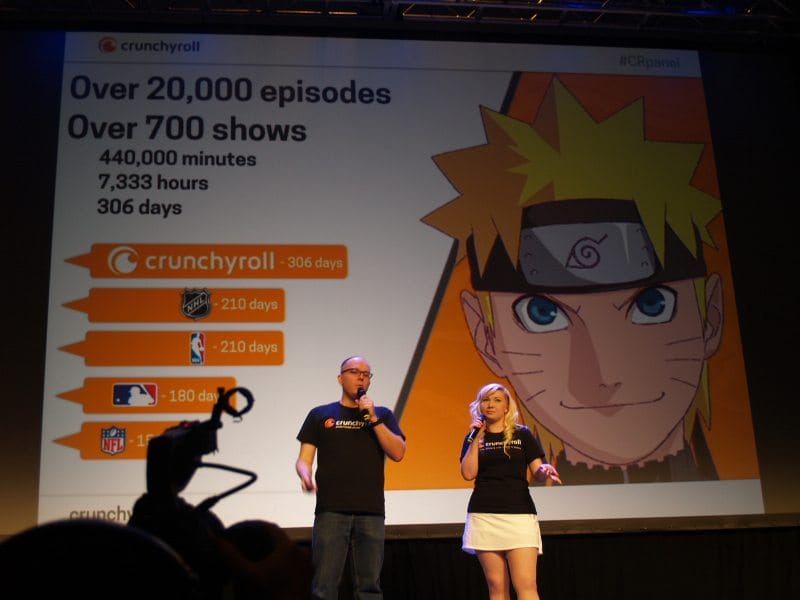 You're going to hear this a lot. But I digress.
After the brief introduction, the two opened the floor for a brief give-away, to see who was actually paying attention. One lucky fan was able to score a three-month subscription for recalling three benefits of a paid subscription.
Once the winner was seated again, the two continued. Sheehan and Holden promoted Crunchyroll's news section and social media presence, and the company's YouTube channel. The section was punctuated by a brief interview with director Tomohiko Ito as he discussed his work on Erased. Ito was insightful and interesting as he explained what influenced the show's flow, and the influences taken in setting the overall tone for the work.
After Ito finished, though, fans were right back into promotion-land. The two hosts hyped their Anime Boston booth, as well as a new partnership with LootCrate. Going forward, they explained, Crunchyroll will be curating the boxes from LootCrate's LootAnime service, ensuring that premium subscribers get a discount in the exchange.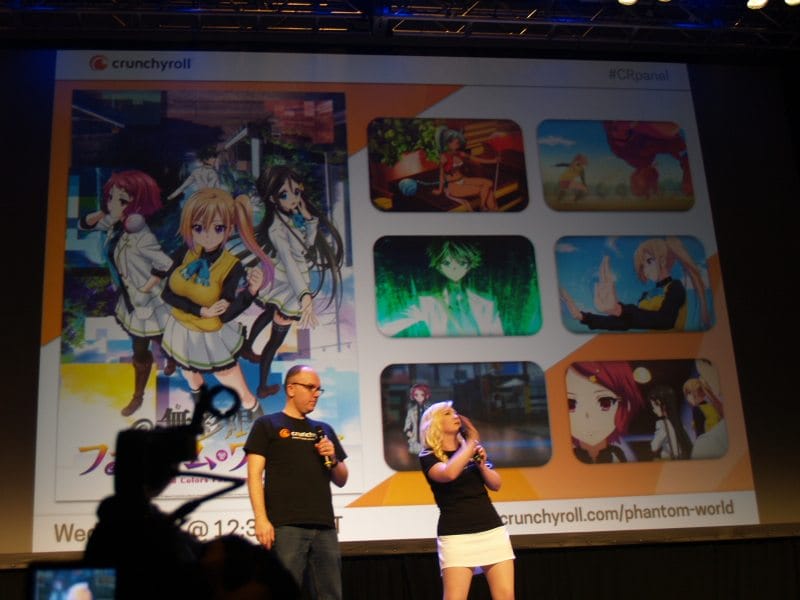 Finally, the promotions were over, and it was time for the anime hype to begin. Sheehan and Holden kicked off a rapid-fire succession of trailers, stopping only briefly to offer a brief word on the shows they were highlighting. Gate, Myriad Colours Phantom World, Active Raid, and Aokana flashed by, one after another.
Amid the Aokana teaser, one member of the audience remarked that the main character was gifted with Garzey's Wing, to laughter and applause.
Capping off the trailer rush was Erased or, as Victoria Holden described, "it's like a darker version of Groundhog Day!"
The teasers were punctuated by a second prize give-away, in which fans were asked what kind of girl Crunchyroll's mascot was (She's a Karamatsu girl, natch), and recall which show had to do with the destruction of Tokyo (Active Raid).
And, as they say, out with the old and in with the news!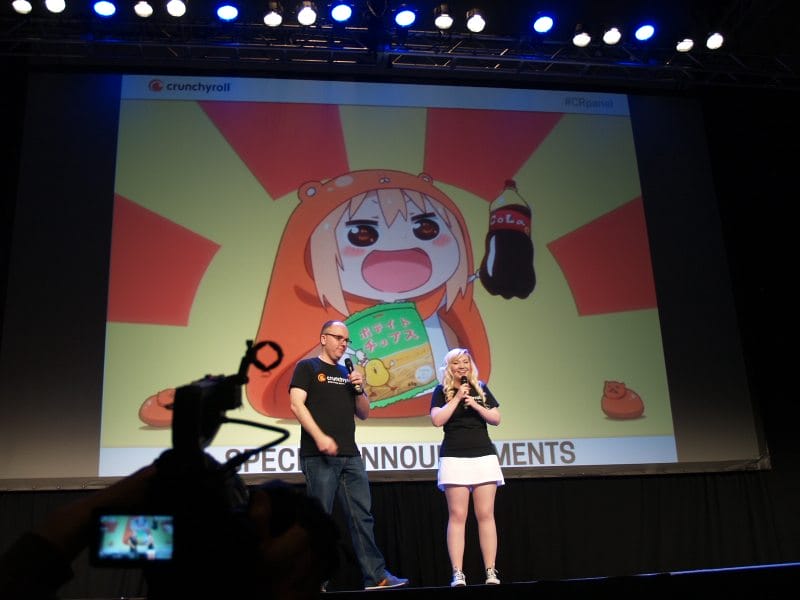 Sheehan and Holden led off with a teaser for the Free! Iwatobi Swim Club dubbed adaptation, highlighting the cast that includes figures like Todd Haberkorn and Greg Ayres. Also dat ass.
The two quickly moved to Digimon Adventure tri., which saw its second chapter hit Crunchyroll earlier this month. The subject shifted to a brief promotion for the upcoming Kiznaiver live panel that would be held on Sunday.
Finally, fans received their first bit of news! Sheehan noted that Cruncyhroll would release the Kiznaiver manga that evening.
The subject then shifted to Space Patrol Luluco, which also had an event during the weekend. A brief promotional video was shown, and the conversation shifted to the upcoming Spring 2016 season.
It was a rapid-fire series of confirmations. FIrst The Asterisk War season 2, then Anne Happy, Re: Zero, and Twin Star Exorcists. They touched on plans to simulcast Terra Formars season 2 and showed a brief promotional video for Jojo's Bizarre Adventure: Diamond Is Unbreakable.
Time was growing short, but Sheehan and Holden had one last ace up their sleeve. The room went dark as one last promotional video started to play, the mournful voice of Susumu Hirasawa accompanying a short passage from Nietzche's Jesuits von Gut und Bose.
Then, the camera cut to Guts, brandishing his massive sword to cleave a trio of hellspawn. The room erupted in cheers, as the trailer played. Sheehan happily revealed that Crunchyroll would simulcast the upcoming Berserk anime series.
Though the announcements were light, Crunchyroll's panel didn't fail to entertain. Sheehan and Holden shared a wonderful on-stage chemistry, and the pace of the reveals proved to be refreshingly quick. The final Berserk news, though, proved to be a fantastic way to cap off the event, offering that one morsel of amazing inclusiveness that turns a fun convention into the stuff of memories.
Gallery