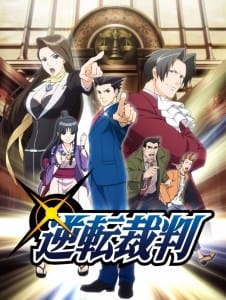 Hold It! The greatest detective can, should, and will come to the west!
Earlier today, Crunchyroll announced that they will stream the Ace Attorney anime series. The show will kick off on April 2, at 4:00AM Pacific (7:00AM Eastern) in all regions outside of Asia.
Ace Attorney is based on Capcom's video game franchise of the same name. Ayumu Watanabe (If Her Flag Breaks, Space Brothers) is helming the series at A-1 Pictures. Keiko Ōta (Hyakko!) will provide character designs on the project, while Atsuhiro Tomioka (Inazuma Eleven, Pokémon XY) takes charge of series composition. Kaoru Wada (Princess Tutu, Ninja Scroll) is scoring the soundtrack.
The confirmed cast includes:
Phoenix Wright(Ryūichi Naruhodō): Yuuki Kaji
Mia Fey(Chihiro Ayasato): Chie Nakamura
Miles Edgeworth(Reiji Mitsurugi): Masashi Tamaki
Maya Fey(Mayoi Ayasato): Aoi Yūki
Dick Gumshoe(Keisuke Itonokogiri): Masami Iwasaki
Larry Butz(Masashi Yahari): Tooru Nara
Several character art pieces, as well as a 15-second TV spot were released to promote Ace Attorney, which you can check out below.
Commercial
https://www.youtube.com/watch?v=6wINxs769CE
Character Designs

Source: Crunchyroll