The Love Me Section got its first member today! Well… at least until she's had enough of Kyoko.
Earlier today, Pied Piper Inc. unveiled the first member of the Skip Beat! English dub cast. The company revealed that Erica Lindbeck will voice supporting character Kanae Kotonami in the adaptation.
Lindbeck has been active in the industry since 2014. Her most notable roles include Kaori Miyazono in Your Lie In April, Eli Ayase in Love Live!, and Ibara Naruse in Coppelion. Outside of anime, Lindbeck is known for portraying the latest incarnation of Barbie.
As of press time, the Kickstarter stands at $105,400 across 816, with an average donation of $129.17 per backer. Pied Piper will unveil the actor for Sho Fuwa once funding reaches $110,000. In a new graphic, Pied Piper revealed that they will showcase a new feature or actor at each $10,000 until the $155,000 funding goal is reached.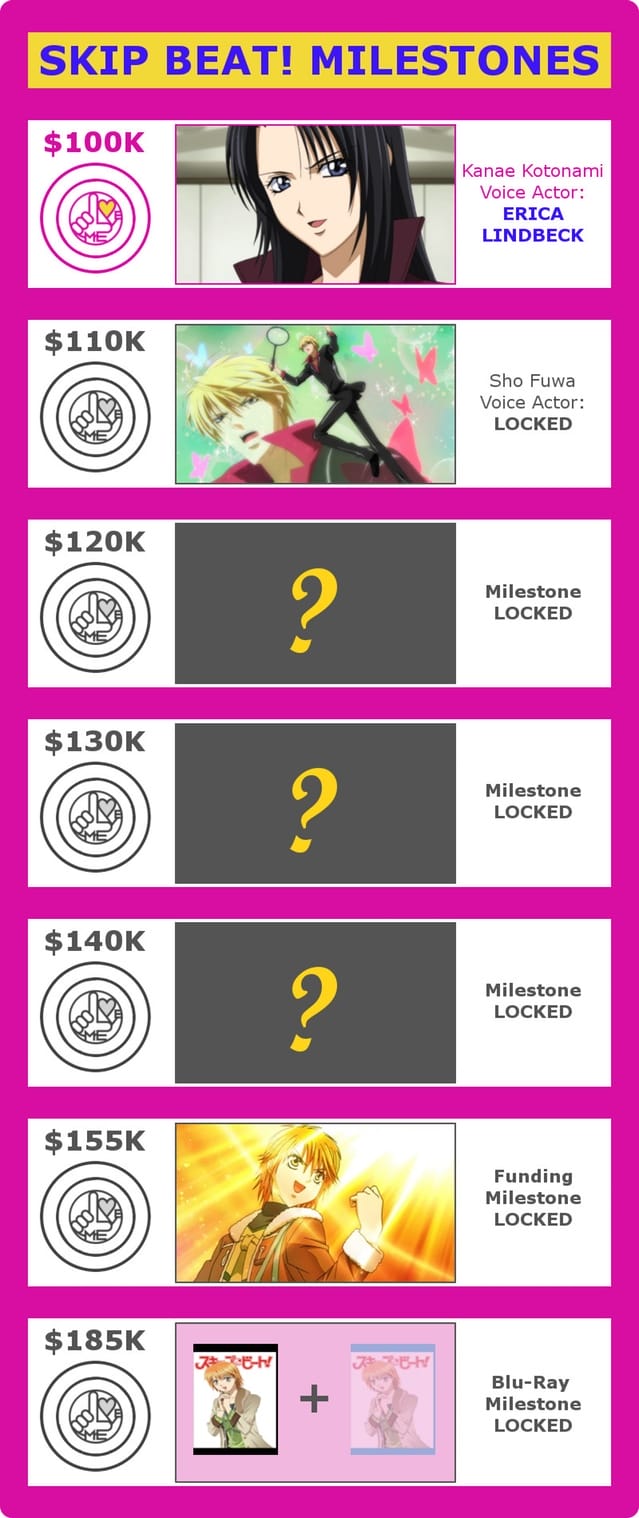 Pied Piper originally launched an IndieGoGo campaign on March 1, which had a funding goal of $210,000. This campaign, which reached $23,773 before Pied Piper ended the run and refunded all contributions to backers.
The new campaign does not guarantee a Blu-Ray release of the show, instead opting to make a Blu-Ray release a stretch goal at $185,000. In a comment to Anime News Network, Yamamoto noted that Pied Piper was able to bring the Blu-Ray stretch goal costs down by cutting expenses and making additional investments into the project.
The confirmed reward tiers on the campaign include:
$1: Thank you message from the team, "Backer Badge" download
$10: Weekly Behind-the-scenes updates, Name on "Backer Wall", Wallpaper download, plus all rewards at $1 Tier
$15: Access to monthly dub updates, plus all rewards at $10 Tier
$25: Kickstarter Exclusive Embroidered patch, Can badges, & Stationery, plus all rewards at $15 Tier
$35: Kickstarter Exclusive T-Shirt, plus all rewards at $15 Tier
$60: Skip Beat! Seasons 1 & 2 on DVD, Vinyl Sticker, Digital behind-the-scenes booklet, plus all rewards at $15 Tier
$100: DVD slipcover, Skip Beat! "True Love Certificate", name in Special Thanks insert, exclusive TBA Reward, plus all rewards at $60 Tier
$150: Chipboard Case, Art Booklet, 11″ x 17″ Poster, plus all rewards at $100 Tier
$500: Skype access to dub sessions, Skip Beat! baseball jacket, plus all rewards at $150 Tier (Limited 5)
$900: Private voice acting class with a cast member, plus all rewards at $150 Tier (Limited 1)
$2,000: 1-Day visit to LA dub session, one-on-one voice acting class with a cast member, signed jacket, "Inner Circle" credit in the Special Thanks insert, plus all rewards at $150 Tier (Limited 1)
$5,000: Speaking part in Skip Beat! dub, flight to LA to attend dub session, , plus all rewards at $2,000 Tier (Limited 1)
Skip Beat! is based on Yoshiki Nakamura's manga of the same name. The 25-episode series originally hit Japanese TV in the Fall 2008 broadcast season. Kiyoko Sayama (Princess Tutu, Vampire Knight) helmed the project at Hal Film Maker, with Tetsuya Kumagai (Log Horizon Season 2, Slayers Premium) providing character designs. Mayori Sekijima (Saber Marionette J, CLAMP School Detectives) was in charge of series composition, while Akifumi Tada (Tokyo Underground, Tenchi Muyo! Ryo Ohki) scored the soundtrack.
Pied Piper announced that they acquired the series on February 16. In an interview with Otaku Review, Yamamoto commented on the company's crowdfunding effort:
How to identify and evaluate unlicensed titles? I'd been having conversations with Time of EVE backers and talked with several of them about my predicament. Five of them joined me as Project Curators to scout out new titles, and so they sent me a stream of ideas. My next step was to contact the rightsholders. I got many, many rejections, which gave me the chance to refine my pitch. So I was in a much better position when I met with TV Tokyo. I saw "Skip Beat!" in their catalog, and my jaw dropped.

To be honest, it wasn't my ideal title simply because 25 episodes increases the costs on all fronts – licensing, dub, authoring, and manufacturing. It is a huge risk. I was looking for a smaller-scale title. But, Kyoko is all about guts. I love the title, and decided to go for it.

The TV Tokyo licensing team was open to letting me use crowdfunding, and I am profoundly grateful that the production committee allowed me to license the title.
[…]
We are bonded by our love of "Skip Beat!," and I hope that comes through in the campaign.
Source: Kickstarter
Full Disclosure: Skip Beat! was featured as one of our "KickColle Profile" projects.