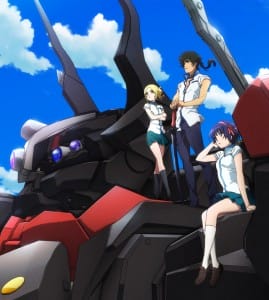 Netflix is ready to rock with P.A. Works!
Earlier today, the official Kuromukuro anime website announced that Netflix acquired the exclusive global streaming rights to the series. Netflix will start streaming the show in Japan on April 11, four days after it airs on Japanese TV. New episodes will be added every Monday.
The site also noted that Netflix will stream Kuromukuro at a later date, though specific dates or times were not disclosed.
Kuromukuro is P.A. Works' 15th anniversary project. The series will be set in P.A. Works home prefecture of Toyama, with several prominent landmarks like the Tate Mountain Range making appearances through the show. For example, the robot research facility is located near Toyama's Kurobe Dam. Snow Grouse is credited with the original concept.
Tensai Okamura (Blue Exorcist, Darker Than Black) is directing the project, while Yuriko Ishii (A Lull In The Sea) fills the dual roles of character designer and chief animation director. Ryou Higaki (Moribito – Guardian of the Spirit) is in charge of series composition, while Tomoaki Okada (Darker Than Black, Star Driver) provides mechanical designs.
The series is set in an alternate version of Earth in 2016. In this world, a mysterious ancient artifact was discovered during the construction of the Kurobe Dam. Seeing great potential in the area, the United Nations established the United Nations Kurobe Research Institute, which attracted brilliant minds from across the globe to study the mysterious McGuffin. The children of these researchers attend the Mt. Tate International Senior High School, including institute head's daughter.
All is not well, though. The world begins to change when a lone samurai awakens after a very long slumber.
The confirmed cast for the project includes:
Kennosuke Tokisada Ouma: Yōhei Azakami
Yukina Shirahane: M.A.O
Sophie Noël: Reina Ueda
Mika Ogino: Asami Seto
Ryōto Akagi: Kaito Ishikawa
Jundai Kayahara: Yūsuke Kobayashi
José Carlos Takasuka: Shunsuke Takeuchi
Marina Unami: Manami Sugihira
Koharu Shirahane: Momo Asakura
Hiromi Shirahane: Kanako Toujô
Tom Borden: Ryohei Kimura
Liu Shenmei: Hikaru Ueda
Sebastian: Taiten Kusunoki
Graham: Katsuyuki Konishi
Rita: Lynn
Bess: Juri Kimura
Minoru Aramata: Kouichi Makishima
Jiro: Hiromichi Tezuka
Pora: Rina Satou
Takekuma-sensei: Hidenobu Kiuchi
Oshō Yakushi: Tetsuo Goto
Kuromukuro premiered today on Japanese TV. Last month, Pony Can USA streamed a subtitled promo video for the project, which you can check out below:
Source: Twitter (KUROMUKURO_UNKL)