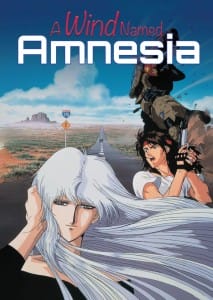 What if… a mysterious wind came? What if…. mankind forgot everything?
Last night, Discotek Media announced that they acquired three new titles. The company will release A Wind Named Amnesia, Pilot Candidate, and Soul Hunter on June 28.
According to Discotek, their Pilot Candidate release will include the OVA, which wasn't released in North America.
In addition to the new title adds, Discotek revealed that they will release Dino Mech Gaiking on June 21, and the company's shooting for a July release of Beelzebub set 1.
A Wind Named Amnesia is a 1990 film based on Vampire Hunter D creator Hideyuki Kikuchi's novel of the same name. Kazuo Yamazaki (Maison Ikkoku, Urusei Yatsura) helmed the project at Madhouse, with Satoru Nakamura (Hyper Doll, Library War) providing character designs. The team of Kazuo Yamazaki, Kenji Kurata, and Yoshiaki Kawajiri wrote the screenplay. Central Park Media originally released the title in the west under their Software Sculptors label.
Pilot Candidate is a TV series from 2000, which was helmed by Mitsuru Hongo (Outlaw Star, Shamanic Princess) at Xebec. Shinichi Yamaoka (D.N.Angel, Pandora Hearts) provided character designs for the project, while the team of Akira Okeya, Miho Sakai, and Mitsuyatsu Sakai wrote the scripts. Bandai Entertainment originally released the series on DVD in 2002.
Soul Hunter first aired on Japanese TV in 1999, spanning 26 episodes. Junji Nishimura (Bakuon!!, Kyo Kara Maoh!) directed the series at Studio DEEN, with character designs by Tadashi Kojima (). ADV Films originally released the series on DVD in 2002.
Source: Facebook (Discotek Media)