Happy Sunday, everyone, and welcome to another all-new AniWeekly! It's Golden Week, which means it's a time for a week of relaxation and leisure in Japan at large. Still, that doesn't mean that we're taking a break! We're back with another collection of all the news that's fit to read, plus a few fantastically fun articles from across the anime world.
In The News
Just call it "Special K." Wait… that's trademarked? Crap. A new K anime series, titled K Seven Stories was officially greenlit for production.
Pay your taxes, mmkay? Log Horizon creator Mamare Touno was found guilty of tax evasion on a Tokyo court. According to the ruling, Touno failed to file over 122 million yen ($1,091,707.94 USD) in royalties over the course of three years. Touno will is being placed on 3 years' probation, and his licensing company m2ladeJAM must pay a fine of 7 million yen ($62,671.79 USD).
Honey, flash! A new teaser for live-action film Cutey Honey -Tears- hit the web last week, giving fans a first glimpse at Mariya Nishiuchi's performance as Honey.
Karuta: the game of love. A third live-action Chihayafuru film is in the works. The news was revealed at a première showing of Chihayafuru: Shimo no Ku (Chihayafuru: Lower Phrase).
A modern makeover for a classical sound. A new promo video for Show By Rock!!'s second season hit the web, offering fans a new look at fusion group Tsurezure Naru Ayatsuri Mugenan.
http://dai.ly/x47f65o
Under the Dog, but peeking over the hills. Kickstarter-funded project Under The Dog has a release date! The title will be released in digital format on August 1, 2016.
Who is the Battle Angel? James Cameron's production company is currently testing lead actresses for the Battle Angel Alita live-action film. The short list of candidates includes:
Maika Monroe (It Follows, Independence Day: Resurgence)
Rosa Salazar (Maze Runner: The Scorch Trials)
Zendaya (K.C. Undercover, Spider-Man: Homecoming)
Make that trouble, and double it! Danganronpa 3 is getting not one, but two anime titles that will kick off this July. Both shows, Danganronpa 3: Despair Volume and Danganronpa 3: Future Volume will kick off in the same week, albeit on different days.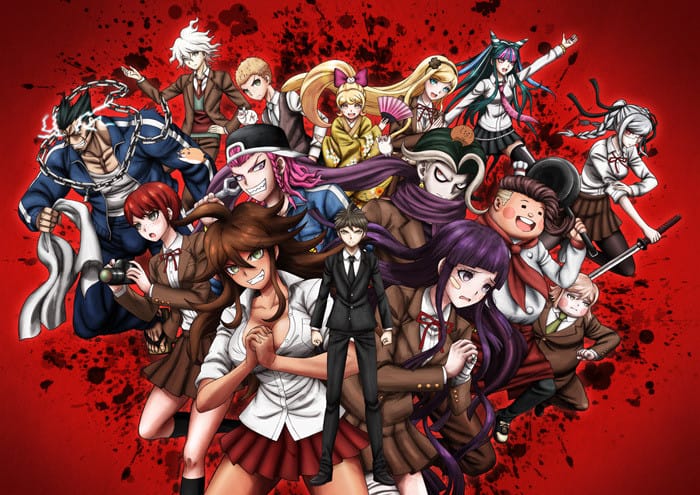 A Heartwarming family life. Honobono Log, the heartwarming viral illustration series, is getting an anime series! The show will air on NHK as a short-form experience.
Conquering the world through anime! The Japanese government is hosting a competition, which asks businesses and studios to produce a promotional anime short for overseas trade. The winner will receive a cash prize, as well as the opportunity to pitch his pilot to various foreign producers.
From The AniBlogging Community
Finding your inner expert. Continuing her instructional series, Lauren from Otaku Journalist wrote a short piece on how your involvement in fandom could be preparing you for a successful long-term career.
That's Edutainment! Manga Therapy published a short read on the growth of manga edutainment, and the pros and cons attached to the movement.
Weekly Fun Stuff!
TocoToco TV profiled Eden of the East director Kenji Kawai. It's an interesting piece, which highlights Kawai's life as a composer, and his sources of inspiration in his work.