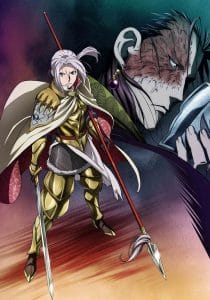 It appears that Arslan's next battle will be but a short engagement.
The latest issue of Kodansha's Bessatsu Shōnen Magazine reports that the upcoming The Heroic Legend of Arslan: Dust Storm Dance (Arslan Senki: Fūjin Ranbu) anime series will début on July 3. The series will run for eight episodes on Japan's MBS and TBS networks, during the 5:00PM "Nichigo" time slot.
The Heroic Legend of Arslan: Dust Storm Dance is the sequel to 2015's The Heroic Legend of Arslan. Most of the cast and crew are returning for the upcoming season, including director Noriyuki Abe (Black Butler: Book of Circus) and character designers Kazuo Watanabe and Ushio Tazawa. Makoto Uezu is in charge of series composition. Production will again be handled by Liden Films.
Kyō Yamashita will replace Daisuke Suzuki as CG Director, while Tatsuya Shimano replaces Hiroshi Adachi as Modeling Director. CGI production is being moved to 3dCGI from Sanzigen.
The confirmed voice cast includes:
Arslan: Yūsuke Kobayashi
Dayrun: Yoshimasa Hosoya
Narsus: Daisuke Namikawa
Elam: Natsuki Hanae
Hilmes: Yuuki Kaji
Alfreed: Manami Numakura
Jaswant: Wataru Hatano
Etoile: Yumi Uchiyama
The Heroic Legend of Arslan is based on Fullmetal Alchemist creator Hiromu Arakawa's manga of the same name. The first series debuted during the spring 2015 broadcast season.
Funimation holds the North American rights to The Heroic Legend of Arslan anime series. The company streams the show on their streaming platform and on YouTube. In the UK, Viewster holds the license to the show.
Character designs for several key characters, including Arslan, Daryun, and Narsus were released to promote the show. You can check these out below:
Source: Anime News Network