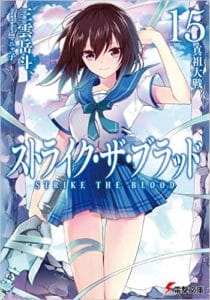 It's time to go back to Itogami City's Demon District!
The wraparound jacket on the latest volume of Gakuto Mikumo's Strike the Blood light novels revealed that a new Strike the Blood OVA series is in the works. More information on the project will be revealed at a later date.
Strike the Blood was first released under ASCII Media Works's Dengeki Bunko imprint in May 2011. The new volume is the 15th in the ongoing series.
The title spanned an ongoing manga in 2012, which currently runs in Dengeki Daioh magazine.
An anime adaptation of Strike the Blood was also produced, which aired during in the Fall 2013 broadcast season. Takao Sano served as chief director on the project at Silver Link, with Hideyo Yamamoto (The Prince of Tennis II) serving as director. Keiichi Sano (Absolute Duo) provided character designs on the project, while Hiroyuki Yoshino (Accel World, Magi: The Labyrinth of Magic) took charge of series composition.
In North America, Yen Press distributes the Strike the Blood light novels and manga. Discotek Media currently holds the rights to the anime, which is available in its entirety on Crunchyroll.
Source: Anime News Network