Crunchyroll wants fans to grab their swords of light and set their sights on a deep-space adventure!
Earlier today, Crunchyroll revealed that they added Lost Universe to their digital platform for members in the United States and Canada. The series is available in its entirety for Premium subscribers. Free members are able to watch the first 13 episodes of the show, with the remaining 13 being added next week.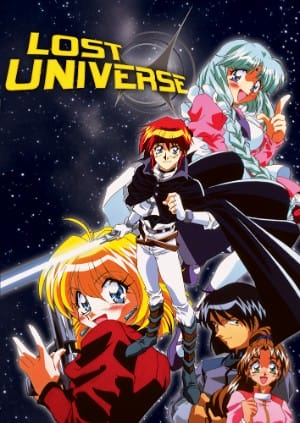 Lost Universe is based on Hajime Kanzaka's (The Slayers, Sorcerous Stabber Orphen) light novel series of the same name. Takashi Watanabe (Aria the Scarlet Ammo, The Slayers, The Slayers NEXT) helmed the project at E.G. Films, with Naomi Miyata (The Slayers, The Slayers NEXT) providing character designs. The team of Shoichi Sato and Tsuyoshi Tamai wrote the show's scripts.
Crunchyroll describes the series as:
Millie Nocturne has one great goal in life: to be the best in the universe – at absolutely everything! But when she tries her hand at being the "best detective," she ends up an unwilling partner with two people who will change her life forever: Kane Blueriver, the psi-blade-wielding master of the starship Swordbreaker, and Canal, the smart-mouthed holographic image of the ship's computer. Join this unlikely trio on their adventures as they hurtle through space facing off against intergalactic crime lords, rogue starships, and hijackers dressed as chickens… and that's just the tip of the asteroid!
Lost Universe is licensed by Right Stuf in North America.
During its initial run, the series received a fair degree of infamy for episode 4, "Coconut Crabs Kill!", which aired on April 24, 1998, The project was originally worked on by Korean studio San Ho Studio, who received only basic manuals for the characters as reference material. The resulting episode was dismal in quality, to the point that the episode was re-animated nearly in its entirety for the Laserdisc release. The term "yashigani" has since become a part of fan vernacular in some circles.
Source: Crunchyroll