These space pirates have a chance to be bodacious once again!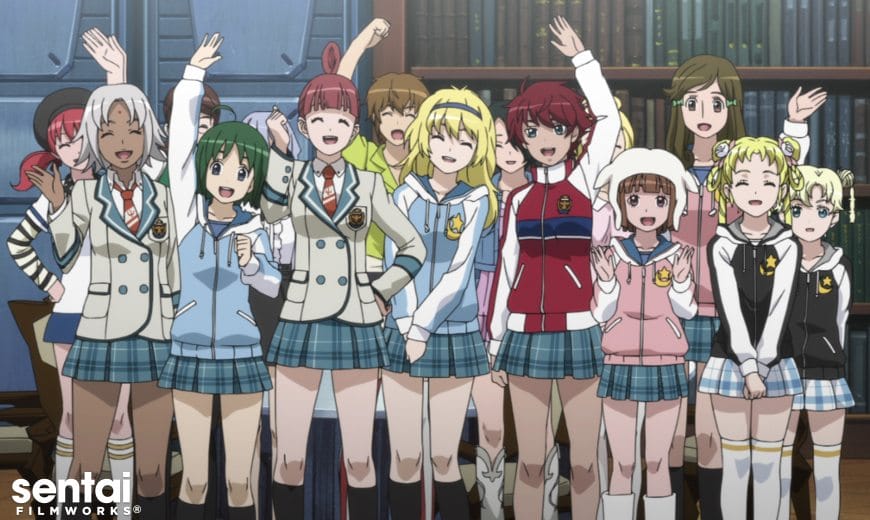 Earlier today, Sentai Filmworks unveiled the English dub cast for Bodacious Space Pirates: Abyss of Hyperspace (Mōretsu Pirates: Abyss of Hyperspace -Akū no Shien-). The film will star the following:
Marika Kato: Luci Christian
Kanata Mugen: Kira Vincent-Davis
Chiaki Kurihara: Caitlynn French
Misa Grandwood: Carli Mosier
Kane McDugall: Chris Patton
Coorie: Hilary Haag
Schnitzer: George Manley
Hyakume: Kalob Martinez
San-Daime: Greg Ayres
Luca Kaoru: Monica Rial
Grunhilde Serenity: Kalin Coates
Gruier Serenity: Monica Rial
Mami Endo: Brittney Karbowski
Ririka Kato: Shelley Calene-Black
Jenny Dolittle: Shannon Emerick
Show: Andrew Love
Ren Lambretta: Emily Neves
Haramaki Harada: Margaret McDonald
Lilly Bell: Cynthia Martinez
Natalia Grennorth: Juliet Simmons
Sasha Staple: Tiffany Terrell
Ursula Abramov: Emily Neves
Izumi Yunomoto: Tiffany Grant
Yayoi Yoshitomi: Allison Sumrall
April Lambert: Karlii Hoch
Asta Alhanko: Tiffany Terrell
Ai Hoshimiya: Margaret McDonald
Shouko Kobayashimaru: Allison Sumrall
Belinda Percy: Maggie Flecknoe
Flint/Advaseele: Mark X Laskowski
Scarlett: Kelly Manison
Gonzamon Kato: Mike Yager
Dr. Mugen: Ty Mahany
Gilbert Necker: David Wald
Kenjo Kurihara: Rob Mungle
Narrator: Mike Yager
Christopher Ayres is directing the dub, while Katelyn Barr writes the script. Additional voices will be performed by:
Shelly Calene-Black
Shannon Emerick
Maggie Flecknoe
Tiffany Grant
Mark X Laskowski
Andrew Love
Ty Mahany
Kelly Manison
Cynthia Martinez
Margaret McDonald
Rob Mungle
Emily Neves
Juliet Simmon
Allison Sumrall
Tiffany Terrell
David Wald
Mike Yager
Bodacious Space Pirates: Abyss of Hyperspace is a theatrical film sequel to the Bodacious Space Pirates anime series. Tatsuo Sato (Bodacious Space Pirates, Cat Soup) directed the project and wrote the screenplay, while Satelight produced the animation. Osamu Horiuchi (Full Metal Panic!, Hayate the Combat Butler!) provided character designs on the project.
Sentai Filmworks will release Bodacious Space Pirates: Abyss of Hyperspace on DVD and Blu-Ray on June 14. The company describes the film as:
It's not easy being the captain of a space pirate ship. Especially when you're still in high school and aren't allowed to do normal pirate-stuff like rob and plunder. However, despite those restrictions, Marika Kato has proven herself worthy of commanding the Bentenmaru. And if staging performances such as pretending to board and pillage space cruise ships doesn't pay as well as actually stealing stuff… well, at least no one gets hurt, right? But things take a sinister turn when Marika and her crew are hired to raid the luxury liner Begin The Beguine. Because one of the passengers has a hidden secret and agenda of his own. And it begins with being kidnapped! Suddenly the Bentenmaru and their new "hostage" are being pursued by other warships and the race is on for what could be the biggest prize of all! Batten your hatches and prepare to have your timbers shivered as Marika and her crew set sail for their highest adventure yet in BODACIOUS SPACE PIRATES – THE MOVIE!
Source: Sentai Filmworks