Broccoli's bringing a world of pretty boys to life!
Earlier today, Streaming service NicoNico streamed live special Magic-kyun Hōsō Iinkai 2-Kyun! on their digital platform. During the show, a promotional video streamed for the project's theme song CD. The end of the teaser features a confirmation of a new anime series based on the Magic-kyun Renaissance franchise:
http://dai.ly/x4agt8f
Magic-kyun Renaissance is a multimedia franchise, co-owned by Broccoli, Sunrise, and Pony Canyon. Hajime Yatate
Hajime Yatate (the nom de plume for Sunrise's collective staff) is credited with the original concept. Mitsue Yamazaki (Hakkenden: Eight Dogs of the East) will helm the project at Sunrise, with Kumi Ishii (Rozen Maiden, OreImo) providing character designs. Tomoko Konparu (Nana, Dance With Devils) is in charge of series composition.
A visual was released to promote the show: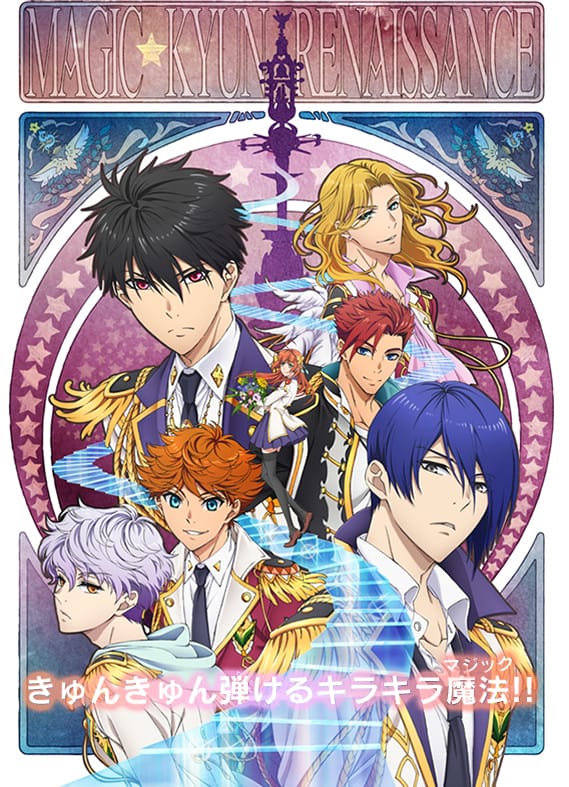 The confirmed voice cast includes:
Teika Ichijōji: Yuichiro Umehara
Aoi Suminomiya: KENN
Rintarō Tatewaki: Yuuki Ono
Louis Anjō: Wataru Hatano
Monet Tsukushi: Shouta Aoi
Kanato Hibiki: Takuya Eguchi
Several character visuals were also unveiled, which you can check out below:
Previously, a number of promotional shorts were released to promote the project.
http://dai.ly/x3crjyi
A PlayStation Vita game is currently in the works, and on-track for a September 21 release. In addition, a pop-up shop at Tokyo's Ikebukuro P'Parco department store will open from May 18 through 25.
Source: Anime! Anime!