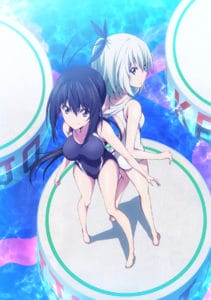 The racy sports comedy is getting an overload of info!
The latest issue of Shogakukan's Weekly Shonen Sunday magazine (Issue 25) revealed several new cast and crew listings for the upcoming Keijo!!!!!!!! (Hip Whip Girl) anime series.
Hideya Takahashi (Pocket Monsters: The Origin Episode 3, Fantasista Stella) will helm the project at studio Xebec, while Keiya Nakano (AOKANA: Four Rhythm Across the Blue, Atelier Escha & Logy: Alchemists of the Dusk Sky) provides character designs. Takao Kato is in charge of series composition.
The confirmed cast includes:
Nozomi Kaminashi: Lynn
Sayaka Miyata: M.A.O
Kazane Aoba: Kaede Hondo
Non Toyoguchi: Saori Ōnishi
Keijo!!!!!!!! began publication in Weekly Shonen Sunday in July 2013. As of press time, the series has received nine collected volumes. The anime adaptation was first revealed in February, in the 11th issue of Weekly Shonen Sunday.
Baka Updates describes Keijo!!!!!!!! as:
Kaminashi Nozomi (17) is an exceptional gymnast. So much so that colleges with some of the best gymnastic programs are trying to recruit her. Unfortunately for them, she has other plans. Due to her family being extremely poor, money is everything to her. That's why she wants to step into the world of "Keijo." "Keijo" is a type of gambling sport where girls stand on a small floating platform and compete against one another. The aim is to push the other contestant off of the platform into the water, but they are only allowed to use their butt or breasts to push the others off. Will Nozomi be able to compete in the intense world of "Keijo" and bring wealth and fortune for her family?
Source: Anime News Network