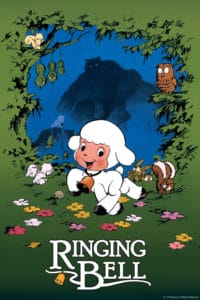 When the bell rings, who will be there to answer its call?
Earlier today, Crunchyroll revealed that they added 1978 children's movie Ringing Bell to their digital platform for members in the United States and Canada. The film is available in both subtitled and dubbed formats.
Ringing Bell adapts Takashi Yanase's book of the same name. Masami Hata (Hello Kitty and Friends, Stitch!) directed the film at Sanrio, with Yukio Abe heading the art department. Taku Izumi (Soreike! Anpanman, Gegege no Kitaro) composed the feature's soundtrack.
Crunchyroll describes Ringing Bell as:
Chirin is an innocent though adventurous young lamb whose carefree life on the farm comes to an abrupt end when a wolf murders his mother. Confused and angry, Chirin pursues the wolf into the mountains, seeking revenge. The laws of nature are brutal, however, and hatred alone won't be enough to avenge the loss of his mother. Only the strong survive in the wild, and obtaining that strength may change Chirin forever.
Ringing Bell is best known for its identity as a G-Rated film, which takes a sudden dark turn. It's one of the few Japanese shock films aimed at children, which has been banned in several countries due to its content.
Source: Crunchyroll