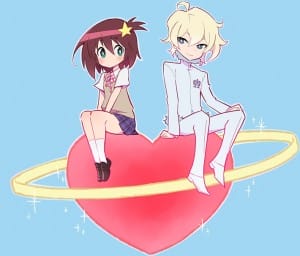 Crunchyroll's gearing for more Trigger-inspired fun!
Earlier today, Crunchyroll announced that they added Hiroyuki Imaishi and illustrator Nanboku's Space Patrol Luluco manga to their digital platform. The series is currently available in all regions outside of Japan.
Space Patrol Luluco is based on Trigger's anime series of the same name. Crunchyroll describes the series as:
The super-popular on-air TV anime receives a manga serialization! Set in Ogikubo, it will give you a peek into Luluco and gang's fun daily life, 4 panels at a time!
The Space Patrol Luluco anime series began airing on April 1, as part of the Ultra Super Anime Time block. Hiroyuki Imaishi is directing the project and handling series composition, while Yusuke Yoshigaki (Ninja Slayer From Animation, Black Rock Shooter) and Mago provide character designs.
M.A.O. (Durarara!! ×2 The Second Arc, Samurai Flamenco) stars as the titular Luluco in the show. The remaining cast members include:
AΩ.Nova: Junya Enoki
Midori: Mayumi Shintani
Chief Director Overjustice: Tetsu Inada
Keiji: Mitsuo Iwata
Crunchyroll streams the series on their digital platform. They describe the show as:
Luluco is a normal junior high school girl whose father is a detective at the space patrol. One day, she visits the Ogikubo branch of the space patrol to save his father who is suddenly frozen. But she happens to be assigned as a space patrol by the chief director Overjustice. Wearing a space patrol suit with strange functions, will she able to save her father and keep the peace of Ogikubo from space criminals? And will she fulfill her life as a junior high school student, including love and study?
Source: Crunchyroll