Get ready, gamers, because Akira Oono's ready to get back into the leaderboard!
Earlier today, the official Monthly Big Gangan announced that Rensuke Oshikiri's Hi Score Girl manga will resume publication. The series will return to Monthly Big Gangan in the magazine's eighth issue, which hits newsstands on July 25.
Square Enix released a visual to celebrate the news:
The sixth compiled volume of Hi Score Girl will be released on the same day, along with special editions of the first five books in the series. The re-release, titled Hi Score Girl CONTINUE, will include a 16-page bonus chapter, along with revised pages and a new cover.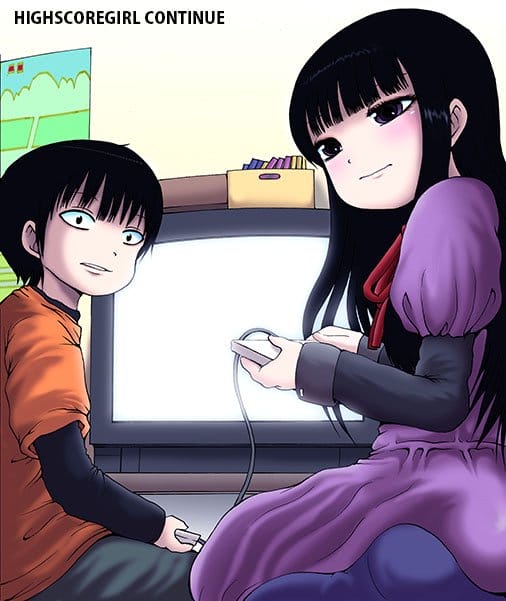 Hi Score Girl was pulled from publication in 2014, following an incident in which the Osaka police department's Consumer and Economic Crime Division searched the offices of Square Enix's headquarters, as well as locations linked to the publisher.
Game publisher SNK alleged that the Hi Score Girl manga contained over 100 instances of unauthorized uses of characters from various SNK-Playmore properties. The King of Fighters and Samurai Spirits were among the named properties. Moreover, the end notes of compiled volumes contained a copyright notice that includes SNK, complete with the © mark, which implies that some form of consent was granted for the characters' usage.
SNK alleged that they found out about the infringements in the summer of 2013, when a Tokyo-based production company approached SNK for permission to use their properties in an anime adaptation of the title.
SNK Playmore formally filed a formal complaint in May 2014. According to Article 119, Section 1 of the Copyright Law of Japan, such a filing required the company to press criminal charges. According to SNK, the company repeatedly requested that Square Enix stop publishing the title, both in collected volumes and in print, though Square Enix never gave a real response to the matter.
In October 2014, Square Enix filed counter-suit against SNK Playmore, claiming that Square was willing to reveal that SNK's claims were invalid. The charges were officially settled between the two parties on August 24, 2015, when SNK Playmore officially filed documents in the Osaka District Court dropping its criminal charges.
Source: Comic Natalie, Twitter (rereibara)