It looks like ComiXology's trying to turn its pull lists into queues with a Netflix-esque model.
Earlier today, digital comics platform ComiXology launched a paid subscription service. The service, officially named ComiXology Unlimited, offers access to a limited selection of comics and graphic novels. Subscriptions carry a monthly cost of $5.99.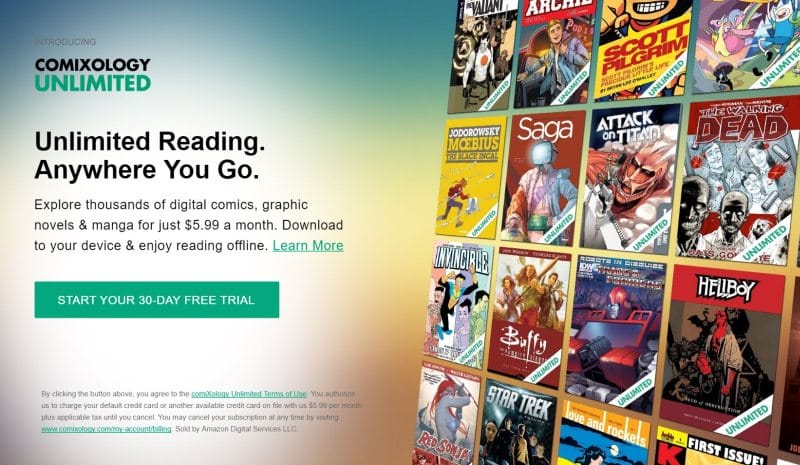 Comixology Unlimited launched with 31 manga titles:
Appleseed Vol. 1
Arisa Vol. 1
As the Gods Will Vol. 1
Attack on Titan Vol. 1
Attack on Titan: Before the Fall Vol. 1
Basilisk Vol. 1
Bloody Monday Vol. 1
Chi's Sweet Home Vol. 1
Coppelion Vol. 1
Archaia's Cyborg 009
Dominion Vol. 1
Fairy Tail Vol. 1
Fort of Apocalypse Vol. 1
Knights of Sidonia Vol. 1
Lone Wolf and Cub Vols. 1-4
Love Hina Vol. 1
Mardock Scramble Vol. 1
Missions of Love Vol. 1
My Wife is Wagatsuma-san Vol. 1-3
Negima! Vol. 1
Neon Genesis Evangelion: The Shinji Ikari Raising Project Vols. 1-3
No. 6 Vol. 1
Parasyte Vol. 1
Sankarea Vol. 1
The Seven Deadly Sins Vols. 1-3
Sherlock Bones Vol. 1
A Silent Voice Vol. 1
Space Brothers Vol. 1
UQ Holder! Vol. 1
Yamada-kun and the Seven Witches Vol. 1
Your Lie in April Vol. 1
ComiXology plans to add more titles as the service matures. As of press time, ComiXology Unlimited is available to users on PC, Android, iOS, and Amazon Fire devices.
ComiXology was originally founded in 2007 as an online community for comic fans. The ComiXology storefront, "Comics by ComiXology", launched in 2009. The service was purchased by online retailer Amazon in 2014. As of press time, Comixology hosts over 75,000 individual comic books and graphic novels.
Source: Comixology