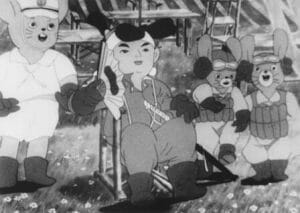 Funimation just added a true anime treasure!
Earlier today, Funimation announced that they acquired the domestic rights to Momotaro, Sacred Sailors (Momotaro – Umi no Shinpe). The company added the theatrical, digital and home video distribution licenses for the film in the United States and Canada.
Momotaro, Sacred Sailors is the first feature-length animated film produced in Japan. The feature, which hit theaters in 1945, was released as a propaganda piece during the last months of World War II. The feature revolves around fairy tale hero Momotaro, who leads a battalion of animal companions to victory against an encroaching army of Allied monsters.
Mitsuyo Seo directed the feature at Shochiku Co. Ltd in 1944. The production, which was crafted with over 50,000 cels, had a budget of 270,000 yen (600 million yen, or $5,420,186.40 USD in today's currency) and a team of 70 people behind it. The film was thought to be lost after the war, until 1983, when a negative was discovered. The film was re-released in 1984.
Seo previously helmed 37-minute film Momotaro's Sea Eagle, which saw Momotaro leading a kamikaze raid on Pearl Harbor (referred to as "Demon Island" in the film). This feature, which spliced animation with real footage of the Pearl Harbor attacks, hit Japanese theaters in 1943.
Funimation will release a restored edition of Momotaro, Sacred Sailors, which was created from a new scan of the original 35MM negative.
Source: Anime Herald