Yamakan's going on a bit of a break.
Yesterday, anime director Yutaka "Yamakan" Yamamoto announced that he's taking an indefinite leave of absence. Yamakan tweeted that he's taking time to recuperate from "far too unreasonable circumstances piling up," which have contributed to his poor health.
このたび、余りに理不尽な事案が重なった末、体調不良に陥りまして、誠に勝手ながら無期限の休養をとることに致しました。電話・メールなどは繋がりますが、今後の活動につきましては基本ご遠慮させてください。

— 山本寛 (@yamacane_0901) May 30, 2016
Rough Translation: At this time, due to far too unreasonable circumstances piling up and pushing me into poor health, I've decided to take an immediate, indefinite leave of absence. I'll continue to serve as lead through phone and e-mail, but please keep me out of the basic day-to-day activities.
Yamakan did note that this wasn't a retirement from the industry, in a response to a tweet by media commentator Kiyoshi Tane. Tane questioned whether this was to be Yamamoto's retirement, to which the director replied "An incompetent critic starts incompetent criticism again (lol)."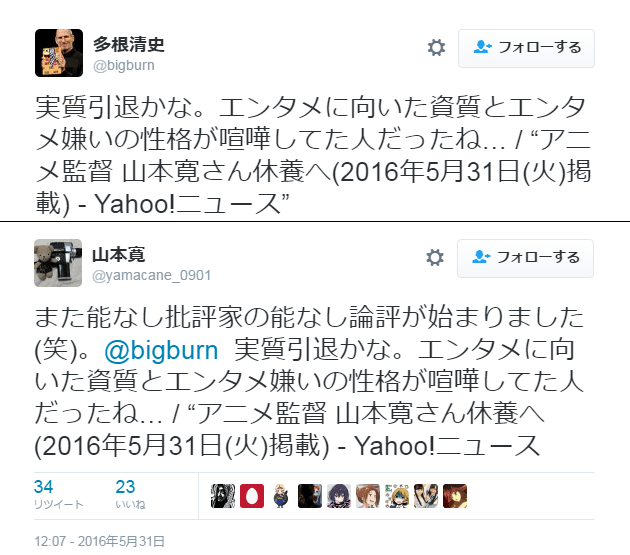 Yutaka Yamamoto began his career as a member of Kyoto Animation subsidiary Animation Do in 1998. He rose to promience in 2006, when he served as assistant director on Kyoto Animation's Munto 2: Beyond the Walls of Time. In 2006, Yamakan was chosen to be the series director for The Melancholy of Haruhi Suzumiya. He was to make his directorial debut in 2007 with Lucky Star, but was replaced after four episodes due to production problems. He was fired from Animation Do shortly thereafter.
In 2008, Yamamoto founded studio Ordet, which aiden in the production of Kannagi: Crazy Shrine Maidens, while Yamamoto directed at A-1 Pictures. Yamamoto would later helm 2011 series Fractale, as well as idol franchise Wake Up, Girls!