It's time for Kitauji High's newest students to make their formal introductions!
Yesterday, we reported that news site Anime! Anime! revealed several visuals for the upcoming second season of Sound! Euphonium. While the original article was removed, the visuals had made their way to Japanese news blogs since publication.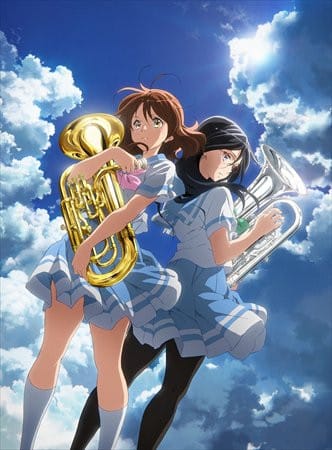 Earlier today, the show's staff officially unveiled the visuals, as well as the two mystery characters, who were still nameless at the time of publication. Nao Toyama will play the role of Mizore Yoroizuka, while Atsumi Tanezaki was cast as Nozomi Kasaki.
In addition, the show's official website revealed that TRUE will perform the new season's opening, while the North Uji Quartet performs the closing theme.
Sound! Euphonium aired during the spring 2015 broadcast season. The 13-episode series was helmed by Tatsuya Ishihara (Clannad After Story, Love, Chunibyo & Other Delusions) at Kyoto Animation. Shoko Ikeda (The Melancholy of Haruhi Suzumiya) provided character designs, while Jukki Hanada (Nichijou – My Ordinary Life, Love Live! School Idol Project) took charge of series composition.
PonyCan USA currently holds the rights to the series in North America. The company is planning a Blu-Ray release, though specific release dates, formats, or pricing are still unknown. In addition to the physical release, Crunchyroll is streaming the series in its entirety on their digital platform.
Compilation film Sound! Euphonium the Movie: Welcome to the Kitauji High School Concert Band (Gekijo-ban Hibike! Euphonium ~ Kitauji Koko Suisoraku-Bu e Yokoso~) hit Japanese theaters on April 23. The second season of the show is due to première in October.
You can check out the official reveals below:
「響け!ユーフォニアム」TVシリーズ2期新ビジュアル公開しました!!放送は2016年10月より放送開始です!!引き続き応援のほど、宜しくお願いします!#anime_eupho pic.twitter.com/RV3CczBkug

— 劇場版 響け!ユーフォニアム (@anime_eupho) June 4, 2016
Rough Translation: We released a new Sound! Euphonium visual! The series will begin its TV broadcast in October 2016. Thank you for your support! #anime_eupho
【新情報②】新たに、鎧塚みぞれ(CV:種﨑敦美)、傘木希美(CV:東山奈央)のキャラクター設定が解禁されました!詳しくは、公式HPをチェック!https://t.co/dZ349qT1xa #anime_eupho pic.twitter.com/Zj4SVkplx9

— 劇場版 響け!ユーフォニアム (@anime_eupho) June 4, 2016
Rough Translation: [New Info (2)]: Mizore Yoroizuka (CV: Nao Toyama), Nozomi Kasaki (CV: Atsumi Tanezaki). More news at the official website! http://anime-eupho.com #anime_eupho
Source: MoCa News